AP Grama Volunteer Interview Process:  The interviewers will take the interview separately for each candidate. Finally, based on the result of 3 interviews, the end results will be announced by the recruiting board or you can check on jntufastresult.com. Every candidate should prepare ap grama volunteer interview question and answers as per syllabus provided on below b jntu fast Results web portal.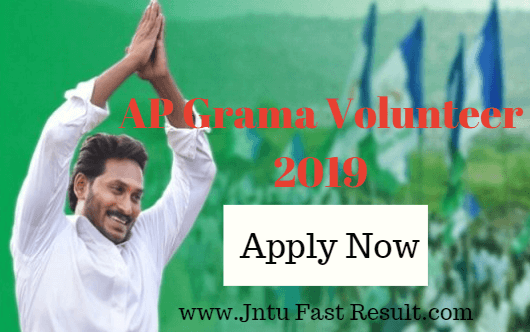 AP Grama Volunteer Recruitment Important Dates 2019:
Official Notification Release Date: 22-06-2019
Application Start Date: 24-06-2019
Last Date to Apply Online: 05-07-2019
Application Verification: 10-07-2019
Interview Dates: 11th July to 25th July 2019
Selected Candidates Announcement: 01-08-2019
Training Dates For Selected Candidates: 05 to 10-08-2019
Date of Joining as Grama Volunteer: 15-08-2019
AP Grama Volunteer Jobs Salary Details
Selected persons will get a pay scale of Rs. 5000/- per month.
AP Grama Volunteer Cut Off Marks 2019:
AP Grama Volunteer Cutoff Marks Candidates have to get the qualifying percentage of marks in the interview round to get the grama volunteer jobs in Andhra Pradesh state.
General and OBC Candidates have to get 40% of Marks
SC/ST Candidates have to score 35% of marks
AP Grama Volunteer Interview Rounds:
Candidates scoring the marks as specified will be declared as cleared the interview process. AP Grama Volunteer Interview Process Municipal Commissioner will act as the chairman of the interview committee. The Committee will be having 3 interviewers (MPDO/ Tasildhar/ EO (PR&RD)).
MPDO (Mandal Parishad Development Officers)
Tasildhar
EO (PR&RD) (Extension. Officer – Panchayat Raj/Revenue department )
AP Grama Volunteer Interview process – start on 11th July.
The interview process is going to be held for 100 marks. The whole interview session will be divided into 5 categories. Each category will be given 20 marks. MPDO/ Tasildhar/ EO (PR&RD) are informed with clear instructions to conduct the Village Volunteer interviews.
> AP Grama Volunteer Interview – Distribution of Marks Marks Will Be Awarded For Candidates on the Basis of Candidates belong to that particular and specific wards – 20
> Marks On the basis of understanding about Government schemes and welfare schemes – 20 Marks.
> If the candidates have done some services voluntarily for the development of the village, if the candidate worked as a federal representative of social service – 20 Marks
> If the candidate is having excellent communication and presentation skills, leadership qualities, and clear understanding about the situations – 20 Marks
> On the basis of merit of aspirants in their academics and qualifying examinations – 20 Marks
When AP Grama Volunteer Interview Results Released: 
Based on the performance and merit of the aspirants in your interview, the APGV recruitment board will release the final merit list on 1st August on its official website, gramavolunteer.ap.gov.in.
What the Process After AP Grama Volunteer Results: 
AP Grama Volunteer Training and Recruitment After the declaration of the merit list on 1st August, candidates will be called for a training session from 5th August to 10th August.
When AP Grama Volunteer Duties Jobing Dates:
After the successful training, candidates will have to report for duties from 15th August onwards.
If You Have Any Queries/ Suggestions / Doubts/ Complaints, Feel Free To Comment Below. MAIL US AT ANY TIME: JNTUFASTRESULT@GMAIL.COM OUR TEAM WILL GIVE REPLY TO YOU AS SOON AS POSSIBLE.
More updates: