Jawaharlal Nehru Technological University-Hyderabad is going to Schedule of various activities related to B.Tech / B.Pharm I, II, III Year II Semester Regular and Supplementary Examinations (Spell-3 exams) on Nov-2020.
JNTUH B.Tech/B. Pharm 1-2/2-2/3-2 Sem Exams Dates Nov-2020 – Released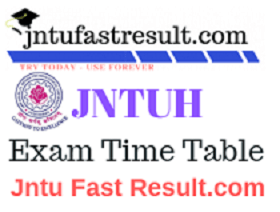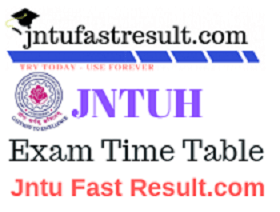 JNTUH B.Tech/B.Pharmacy Spell-3 Exam Dates Nov 2020:
| | |
| --- | --- |
| University | Jawaharlal Nehru Technological University-Hyderabad |
| Categories | Exam Dates |
| Status | Updates on 29th Oct 2020 |
| Courses | B.Tech/B.Pharm 1-2/2-2/3-2 Sem Exams |
| Exam type | Regular/Supply |
Note: Every Point is important to Read and Understand, And Please share this information or This page to Your Friends and Your Whatsapp Groups. We Get back with Exam Time Tables with soon, Thanks
JNTUH B.Tech / B.Pharm 1-2, 2-2, 3-2 Sem Regular & Supple Spell-3 Exams Nov-2020 –  
Released on 29th Oct 2020
All the Principals are informed to note the revised dates for various scheduled activities of I, II, III Year II Semester B.Tech/B. Pharm Regular and Supplementary Examinations are as shown in Table-1 hereunder. Further, the stationary collection dates are given in Table- II.
Table -I
S.No
B.Tech /B.Pharm  I, II & III Year II Sem   Regular/Supplementary Exams
Start date
End date
1.
Exam Registration With Late Fee of Rs.2000/-
–
30-09-2020
2.
Exam Registration With Late Fee of Rs.5000/-
01-10-2020
10-11-2020
3.
Exam Registration With Late Fee of Rs.10000/- *

This late fee application should be manually submitted along with demand draft.

11-11-2020
Till end of exams

4.
DD Report available for Downloading and making payment
05-11-2020
5.
Date for Consolidated Fees Payment -Single RTGS transfer For both Regular & Supplementary Exams and condonation fee after deducting the amount already credited
06-11-2020
6.
Stationary Distributions
College – wise details     given in Table- II
7.
Downloading (through examination portal) and issue of hall-tickets
09-11-2020
8.
Intimation of discrepancies in the pre-printed answer booklets to Examination Branch in person only by a college representative
09-11-2020
9.
Collect the correct answer booklets of discrepancy cases
11-11-2020
10.
Commencement of Theory Examinations
12-11-2020
Table -II
 

S.NO

 

DATE

 

COLLEGES

The officer concerned for issue  of stationary and allotment of observers
 

1.

 

07-11-2020

All Colleges of B.Pharm I, II, III  Year II Sem for collection stationery for Exams
ACE-1 ( Dr.L. SAIDA NAIK)
College wise schedules for collection of stationery for B.Tech I, II, III Year II sem
1.
07-11-2020
7, 8, 24, 25, 26, 27, 28, 32, 37, 60, 64, 65, 68, 84, 86, 87, 91, 92, 95, 1R, 5R, 5X, 6C,6D, 6E, 6J, 6K, 6L, 6P, 6R, 6T, 6U, 6X, 6Y, 7A, 7G, AN, B7, B9, BD, BR, C2, C3, C4,C5, C6, C8, D9, E3, E6, EK, HD, J0, J1, J4, J9, K4, K7, K8,K9, L5, M6, N0, N6, N9,P8, PP, Q9, QD, QK, QP, QT, R0, R2, R4, R7, RC, RH, RJ, RT, S4, S5, TD, TF, TJ, TK,TM, TR, U3, U5, U8, UC, UD, UE, UK, UM, UN, UU, W0, W7, W9,WH, X6
 

ACE-2 (Dr. B. Kranthi Kiran)

2.
09-11-2020
14, 21, 29, 36, 40, 56, 57, 58, 59, 62, 63, 66, 79, 80 ,82, 83, 89, 93, 94,  5A,5C,5G,   5J,  5Q, 5T, 5Y,  5Z, 6B,  6N, 6W, 7D, 7E,  7N,  7P, 7U, 7W,8B,AU, B3, B4, B5, BH, C1, C7,D0, D1, D3, D7, DN, E0, E4, E5, E7, FG, G7, J3, J6, J7, K0, L0, M5, M8, N2, N5, QE,QG, QN, QU, RE, RF, RM, RN, RQ, RR,SS, TA,TE, TH, TN, TT, TU, U2, U7, UA, UF,UG,UH,UQ,UT,WJ,WK,WL,X8
ACE-3 (Mrs. T. Madhavi Kumari)
3.
10-11-2020
30, 31, 61, 67, 88, 5D, 5E, 5F, 5U, 5W, 6A, 6F,6H, 6M, 6Q, 6Z, 7B, 7C, 7F, 7Q, 7T ,7R, 7Y, 7Z, 8A ,8P, 8Q, 8R, 8U, 8W, 8X, 8Y, 9A, 9B, 9C, 9G, 9J, 9K, 9L, 9M, 9P, 9R, AG, AQ, B6, B8, BA, BE, BK, BT, C0, C9, D2, D4, D5, D6, D8, E1, E2, GE, GM, H1,H2, H3, H5, H6, H8, J2, J5, J8, JJ, K3, L7, M1, M2, M3, M4, M9, N1, N3, N4, N7, N8,P0, P6, P7, PQ, PR, PT, PU, Q6, Q8, QA, QC, QF, QH, QJ, QM, QQ, QR, R1, R3, R5,R9, RA, RD, RG, RK, RP , RU, S1, S3, T8, TC, TG, TP, TQ, U0, U1, U6, UJ, UP, UR,VD, VE, VF, VG, W1, W4, W8, X0, X3, X7
 ACE-4 ( Dr. L. Saida Naik )
JNTUH B.Tech/B. Pharm 1-2, 2-2, 3-2 Regular and Supple Exams Dates November 2020
– Released on 29th Oct 2020
Note: The detailed JNTUH time tables of spell-3 exams [B. Tech / B.Pharmacy 1-2, 2-2, 3-2 Semesters] shall be made available by JNTUH within a week time.
The Principals are informed to note that third spell of University exams shall be commencing from 12-11-2020. This third spell semester examination comprises of regular & supply examinations of all I-II, II-II and III-II (even semesters) of B.Tech. and B.Pharm. courses.
In spell-3, all even semester regular & supplementary examinations of UG courses shall be conducted, i.e.,
JNTUH B.Tech 1-2, 2-2, 3-2 Semester Examinations – November 2020
JNTUH B.Pharmacy 1-2, 2-2, 3-2 Semester Examinations – November 2020
JNTUH B.Tech/B.Pharm 1-2/2-2/3-2 Sem Regular & Supply Exam TimeTable 2020 – Released within a week time.
JNTUH B.Tech/B.Pharm All Sem Lab Exams Schedule Nov 2020 – Released on 29th Oct 2020
JNTUH B.Tech/B.Pharm 1-2, 2-2, 3-2 Exams Question Paper Pattern & Guidelines Nov 2020 – – Released on 29th Oct 2020
Following procedure need to be followed by the autonomous colleges who desire to take the support from EB-JNTUH to conduct the exams at different host colleges
1. The colleges can choose any dates from 11-11-2020 to 04-12-2020. In this duration, autonomous colleges can schedule any examinations (regular / supply) of their choice. The starting and ending dates of the time-tables of autonomous colleges need not coincide with the time tables of non-autonomous colleges.
2. The list of exam centres for JNTUH non-autonomous colleges is available on the University main website. Management is requested to select three colleges in each city/town where you wish to conduct the examinations for your students. One of these three colleges will be allotted to your students. However, all the students of one autonomous college will be allotted one exam centre in any city.
3. EB-JNTUH will share with the Principals of autonomous colleges, the exam center names and their addresses, to which their college students are allocated.
4. Answer booklets and other stationery items are to be packed date and session-wise and host college- wise and to be handed over to the office of DE on or before 31-10-2020.EB-JNTUH shall handover the stationary to respective host colleges along with the non-autonomous colleges stationary.
5. Autonomous colleges need to share the session-wise, exam centre-wise counts of students by referring their respective time tables. This will help the JNTUH EB to cross-check whether all the material of each autonomous college reached or not, This information should be sent in the following format (day wise):
6. If there are exams scheduled for 14-days, 14 such tables of information should be provided
7. The autonomous colleges need to speak to Principals of the colleges who are acting as host colleges and obtain their mail ids. The colleges need to send the encrypted question papers directly to the specific host colleges. Password is to be shared with the host college directly 30 minutes before the commencement of the examination of every session.
8. After the examinations, the material shall be collected by EB-JNTUH through postal logistic van service of the University and carryout the autonomous college-wise & session-wise bundling.
9. Two days after each examination, these answer booklet bundles and D-forms can be collected from EB-JNTUH by the respective autonomous colleges.
10. The Autonomous colleges are informed to pay an amount of Rs. 300/- per session per day for the first 15 candidates (minimum) and Rs. 20/- per candidate per session over and above the above-said minimum candidates.
If You Have Any Queries/ Suggestions / Doubts/ Complaints, Feel Free To Comment Below.
Check More Updates