JNTUH Regular/Supply Exam Hall Tickets: Jawaharlal Nehru Technological University, Hyderabad (JNTUH) has conducted the semester exams for all the students under JNTU Hyderabad University. All jntuh students must and should take the JNTUH Hall Tickets issued by the jntu university for all Regular/Supply Examination. Here we provided what mandatory for the external exams as conduted by the university and how to take your jntuh exam Hall Tickets for Regular and supply examinations.
JNTUH Regular/Supply Exam Hall Tickets 2020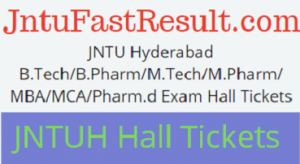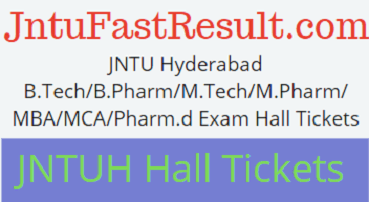 All JNTU Results & Notification & Updates:
For all JNTUH Results and JNTUH fast Updates, notifications or updates Drop Your mail id in below and get all jntu fast and genius updates to your emails. And here we updated the JNTUH UG, PG, B.Tech, B.Pharma Courses Updated and All Notification.
JNTUH Hall ticket Download 2020:
Other college centre students take the print out of your HallTickets and carry HallTickets and ID card(college/Govt issued I'd card) during the exam
Parent college students carry your id card (college/govt issued id card), collect your HallTickets in the exam Hall.
Here we provided the information for All JNTU Hyderabad HallTickets from Manabadi.com or www.jntuh.ac.in hall ticket details for students under Affiliated and constructed colleges under JNTU Hyderabad M.tech, M.Pharm, MBA, MCA, Pharm.d B.Tech, B. Pharma Hall tickets.
What Mandatory for JNTUH External Semeter Exams?
Without college id card and University Hall Tickets, the exam must be prohibited by the Examiner. Go the examination hall along with jntuH issued hall tickets and college provided id card both are mandatory for every JNTUH Regular/Supply Examination.
How To Get JNTUH Hall Tickets 2020: 
Do students go the answer for How can I download Jntuh Hall tickets?. Every semester exams JNTUH Hall Tickets are changed either it is regular and supplies exams. So, You must take JNTUH Hall Ticket before the exams on your respected college exam cell.
When JNTUH Hall Tickets are Released?
JNTUH Regular/Supply Examination Hall Tickets can be sent to you respected colleges. So, once contact your exam cell members or you branch exam cell facilities before 2 days of JNTUH Semesters exams for JNTUH Exam Hall Tickets.
JNTUH Instructions to be followed in the examination hall due to Covid-19 pandemic (by the invigilators):
The room invigilators should sign on all the answer student booklets immediately after entering the exam hall and before issuing the booklets to the respective students.
The student signature on the Nominal roll need not be taken; instead the invigilator should visit the seat of the student, verify the hall-ticket from a distance, check whether he/she signed on the front page of the answer booklet and ascertain whether he/she sits at the allotted place and put a right mark at the space allocated for student signature in the nominal rolls.
Students are permitted to bring their own water bottles and hand sanitizers. Sharing of pens or any other stationary items among the students is strictly prohibited in the exam hall.
On completion of the exam, the students should be permitted to move out in an orderly manner one candidate at a time. The students should not getup from their seats until advised by the invigilator.
JNTUH Jumbling Exam Centers List 2020 
More Updates: 
JNTUH Syllabus Books | JNTUH Acadamic calenders | JNTUH Results | JNTUH Exam Time Table
Related Post:
JNTUH B.Tech/B.Pharm/MBA/MCA Exams Rescheduled dates 2020
JNTUH B.Tech/B.Pharm/MBA/M.Tech/MCA Jumbling Exam Centers List 2020
If You Have Any Queries/ Suggestions / Doubts/ Complaints, Feel Free To Comment Below.
Check More Updates