Here we provided the information regrading the gate online classes. For this all AP students are eligible to apply for gate online classes 2020 and take the class through Home. And Ministry of Education, Government of Andhra Pradesh, in collaboration with Andhra Pradesh State Council for Higher Education, Jawaharlal Nehru Technological University Anantapur, Jawaharlal Nehru Technological University Kakinada, Yogi Vemana University YSR Cuddapah, and Many ap Univeirsties is organizing GATE coaching classes to the students of 3rd and 4th year belonging to State of Andhra Pradesh.  Students from Electronics and Communication Engineering, Electrical & Electronics Engineering, Mechanical Engineering, Civil Engineering, Computer Science & Engineering / Information Technology may please avail the opportunity. Each subject will be taught in 12 sessions in 12 days, with two hours in each session. Two subjects / day for each student will be taught by on-line by two different faculty members. The on-line attendance will be considered by the respective faculty member.
Andhra Pradesh Govt Conducted Online Class For Gate 2020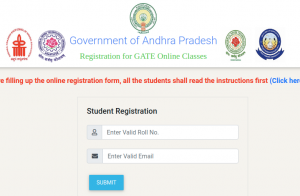 Gate Online Class 2020 -Important Dates:
Commencement of Registration is 2nd May, 2020
Last date for Registration is 7th May, 2020.
Class work starts from 11 th May, 2020.
Instructions to the Students Before Registering Gate Online class 2020
 Registration is free.
Students studying in Andhra Pradesh are only eligible Students of 3rd and 4th of B Tech are only eligible Before submission of online registration form the student shall thoroughly check the subjects they selected. They can submit online registration form up to 11.30 pm on 7th May 2020.
However, the students will be given opportunity to make any changes in the already submitted online registration form till 11.30pm on 7th May 2020.
No request for change in the subjects will be entrained through email and whatever final registration form submitted by student will be considered.
Most important fields student have to check are their mobile number and e-mail id. If these fields are wrongly given, there is chance that the student may miss important messages.
No Phone calls will be entrained as clear instructions are already given.
For any clarifications, which is not covered in the instructions may send mail to gateonline@jntua.ac.in.
In the registration form student can select any number of subjects using radio button. Student can also select the faculty for the chosen course by using radio button.
Each subject will be taught in 12 days with one session for day. The session is of two hours duration. There will be two sessions (Morning & Evening) for a day, one in the morning and one in the evening covering two different subjects.
The schedule of classes will be sent to the concerned students by E-mail.
Attendance will be monitored
How To Register or Apply For Gate Online Class 2020
Online platform, through which Classes will be conducted, will be informed by E-mail to the respective faculty member and Students Registration. Students may please download the list of the subjects and list of the faculty members for each subject, from the web portal as follows provided links on below. Students may please register for the on-line GATE coaching classes in the following web portal:
GATE Exam Syllabus 2020 – All Streams/Courses
Gate Online Classes 2020 Registration Link – – Students Registration link
Download the list of the subjects and list of the faculty members – Download Now
GATE Results 2020 – Download Score Card/Merit List/ Cutoff
Gate Exam Previous Question Papers/Answer Key – Released
If You Have Any Queries/ Suggestions / Doubts/ Complaints, Feel Free To Comment Below.
Check More Latest Updates