JNTUH B.Tech 2-1 Previous Question Papers: Jawaharlal Nehru Technological University, Hyderabad has conducted semester exams for every branch in every year twice. Here we collected the jntuh 2-1 question papers or jntuh 2-1 Previous Year Questions Papers PDf or JNTUH B.Tech 2nd year 2nd Semester R16/R15/R13 Regulation Previous question paper 2020/2018/2017/2019 years For Streams like Civil Engineering, Mechanical Engineering, Computer Science & Engineering, Electrical & Electronics Engineering, Electronics & Communication Engineering, Information Technology and etc. Jawaharlal Nehru Technological University, Hyderabad (JNTUH) is conduting the Examination for every year twice. In below we provided previous year Question Papers for B.Tech 2nd Year 1st Semester exams.
JNTUH B.Tech 2-1 Sem Question Papers 2023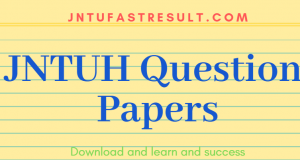 JNTUH B.Tech 2nd Year 1st Sem Previous Question Papers 2023
| | |
| --- | --- |
| University | Jawaharlal Nehru Technological University, Hyderabad |
| Category | JNTUH B.Tech Previous Question Papers |
| Regulation | R18/R16/R15 |
| Status | Released |
JNTUH 2-1 Important Question 2023
Student check there JNTUH Previous Year Question Paper for B.tech 2-1 sem regular and supply exam papers for all subjects. So all the students are must check there Question paper model as conducted by the jntuh university for reference of the question. These previous question papers are used to check what type of question is asked on the main jntuh semester exams. So Studnet checks there jntuh exam paper model before the jntuh exams then you have got one idea on the JNTU Hyderabad exam.
JNTUH B.Tech 2-1 Semester Previous question Papers
Most of the students are getting good marks by using this question papers as a reference So check JNTUH 2-2 Sem Question papers and Plane to Preparer semester exam with JNTUH Syllabus copies. Here JNTUH B.Tech CSE/ECE/EEE/MECH/CIVIL/IT 2-1 Previous question papers as conducted by JNTUH University for all affiliated and construed colleges under jntuh university.
jntuh 2-1 previous question papers PDf
Here jntuh r16 previous question papers and jntuh r15 previous question papers 2-1 and finally jntuh r13 question papers B.tech updated.
Download JNTUH B.Tech 2-1 Previous Question Papers: 
Nov2017 —– April 2018
Nov2017 —– April 2018
Nov2017 —– April 2018
Nov2017 —– April 2018
BUILDING MATERIAL, CONSTRUCTION, AND PLANNING
Nov2017 —– April 2018
Nov2017 —– April 2018
ELECTRONIC CIRCUITS
Nov2017 —– April 2018
NETWORK THEORY
Nov2017 —– April 2018
ELECTRICAL MACHINES-I
Nov2017 —– April2018
ELECTROMAGNETIC FIELDS
Nov2017 —– April 2018
Nov2017 —– April 2018
THERMODYNAMICS
Nov2017 —– April 2018
MECHANICS OF SOLIDS
Nov2017 —– April 2018
KINEMATICS OF MACHINERY
Nov2017 —– April 2018
METALLURGY AND MATERIAL SCIENCE
Nov2017 —– April 2018
Nov2017 —– April 2018
Nov2017 —– April 2018
Nov2017 —– April 2018
Nov2017 —– April2018
Nov2017 —– April 2018
MATHEMATICS – IV
Nov2017 —– April 2018
DATA STRUCTURES THROUGH C++
Nov2017 —– April 2018
MATHEMATICAL FOUNDATIONS OF COMPUTER SCIENCE
Nov2017 —– April2018
DIGITAL LOGIC DESIGN
Nov2017 —– April 2018
OBJECT-ORIENTED PROGRAMMING THROUGH JAVA
Nov2017 —– April 2018
DATA STRUCTURES THROUGH C++
Nov2017 —– April 2018
MATHEMATICAL FOUNDATIONS OF COMPUTER SCIENCE
Nov2017 —– April 2018
DIGITAL LOGIC DESIGN
Nov2017 —– April 2018
OBJECT-ORIENTED PROGRAMMING THROUGH JAVA
Nov2017—– April 2018
MATHEMATICS – IV
Nov2017—– April 2018