Sub:- TECHNICAL EDUCATION – Transfer of students from one Engg. / Pharmacy / Architecture / MBA / MCA professional Institution to another professional institution for the academic the year 2021-2022 – Schedule for admissions – Reg is released on 19th April 2021.
Osmania university college transfer 2022
Please find enclosed a copy of the letter received from the Commissioner of Technical Education, Govt. of Telangana, wherein the schedule for admission of students on transfer from one Engineering / Pharmacy / Architecture / MBA / MCA professional institution to another professional institution under the jurisdiction of Osmania University for the academic year 2021-2022 was communicated. All the Principals are requested to follow the above schedule scrupulously.
The Registrars of,
JNTU, Hyderabad
Osmania University, Hyderabad
Kakatiya University, Warangal
Mahatma Gandhi University, Nalgonda.
With reference to the Government orders vide Ref, 1* to 3 cited on regarding the students' transfers from one Engineering / Pharmacy /Architecture / MBA / MCA College to another College within the same Affiliated Universities where a transfer can be done only for Convener to Convener Quota / Management to Management Quota / Convener to Management Quota for the Academic Year 2021-22, the Registrars of the Universities (as per the address entry) are requested to communicate the following and instruct the Principals of their Affiliated Professional Institutions to follow the schedule scrupulously,
Date of Commencement of submission of applications –  01.04.2021
The last date for receiving applications for the transfer – is 31.05.2021
What are the Documents that Need to Transfer to College: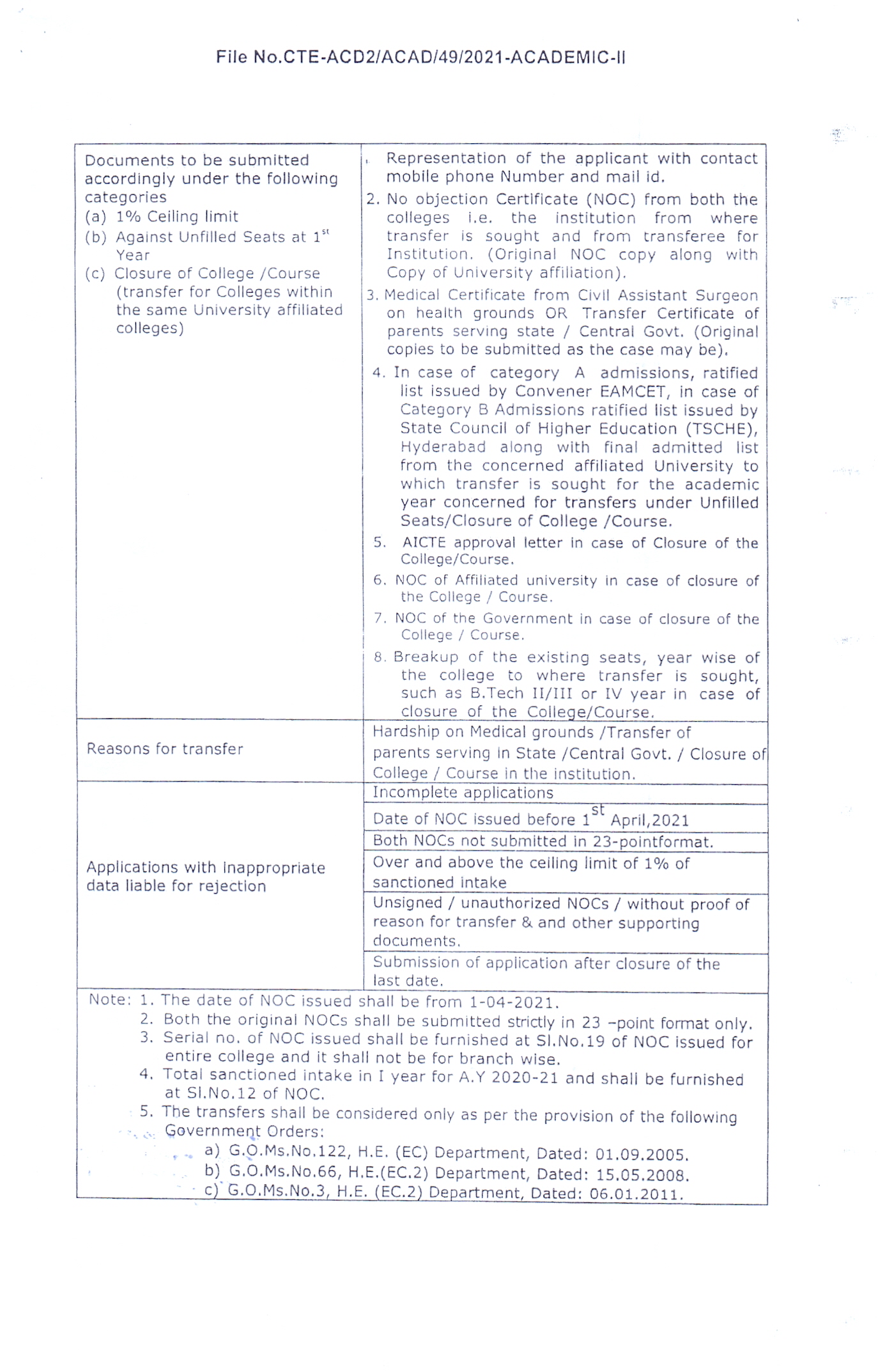 No Objection Certificate Form For Transfer of Students – Download Link
If You Have Any Queries/ Suggestions / Doubts/ Complaints, Feel Free To Comment Below.
Check More Latest Updates