OU Rescheduled Exam Dates: Osmania University has Postponed Ongoing & Scheduled Exams On March/April 2021 For all the affiliated and Constructed colleges and University under Osmania University, Hyderabad (OU) due to Covid increment as per Government of Telangana orders. So In below, we provided Official notification Information regarding Osmania Rescheduled Exams. So please share these OU Rescheduled Exam Dates Because every student wants to know the updated Ou Exam dates for the Postponed Exam. Hope all the students and Faculty are Stay At safe. OU UG III and V Semester Examinations Time Table – July 2021 (Remaining Examinations which were pending due to COVID-19 Pandemic Revised)
Osmania University Rescheduled Exams Dates 2021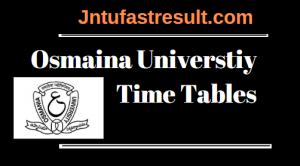 Osmania University Ug & PG Rescheduled Exam Dates:
It is informed to all the Principals of UG (B.A., B.Com., B.Sc., B.B.A. & B.S.W.) colleges that the UG (CBCS) III as V Semester (Regular) examinations which were scheduled in March/April, 2021 are in pending due to COVID-19 and subsequent lockdown, are now re-scheduled from 8th July, 2021.
The detailed Time-Tables are available in O.U. Website: www.osmania.ac.in or Check OU 3rd Semester Exam Time table 2021 and OU 5th Semester Exam Time table 2021
There is no change in the examination centres constituted earlier.
Students have to bring the same Hall Tickets which were issued earlier to appear in the examinations.
More internal choice is given in the question paper due to COVID-19 pandemic.
All the Chief Superintendents of Examination Centres have to strictly follow the COVID-19 Protocols and Standard Operating Procedures (SOP) issued by MHRD/ State Government in conducting of Examinations.
All the Principals are requested to bring it to the notice of the students.
All the Principals and Students are requested to cooperate in conducting examinations smoothly and fairly.
So all Students who are waiting for Osmania University Degree Rescheduled Exams Dates or Osmania University PG Rescheduled Exams Dates & Time Table 2021, Please follow Up JntuFastResults Website For further Genuine Osmania Updates.
Is Osmania University Rescheduled Exam Dates Are Released or Not?
yes, as per the Government of Telangana orders Exams Are postponed and released Rescheduled Exams Dates
Are Osmania University Online Classes is going to Conduted?
Yes, Telangana Government Said, without opening the colleges, Conduted the Online classes for further Semester Syllabus as per Osmania University Acadamic Calenders 2021.
How to Check Osmania University Rescheduled Exams Dates For UG & PG
Students who are waiting for New Exam date information but don't know were to check updated exam dates then don't worry about it, JntuFastResults is there to Update Fast Notification and OU Information to students as per the Osmania University Genuine Information, So just Followup this  JntuFastResults Website For further Genuine Osmania University Updates.
 Telangana All UG & PG Sem Exams Are postponed under all universities ( TS Government Offical notification)
Osmania University Lastest Updates 2021
If You Have Any Queries/ Suggestions / Doubts/ Complaints, Feel Free To Comment Below.
~Check More Latest Updates~