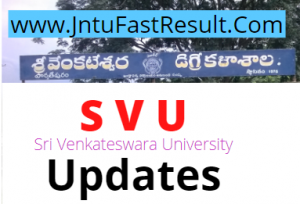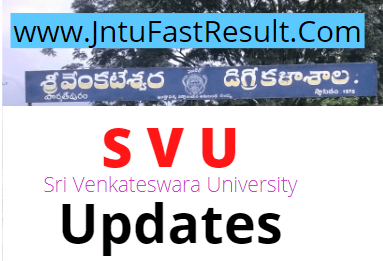 When will be SVU UG 5 & 6 sem instant supply examination 2020?
The University has decided to conduct the Instant Examinations for the candidates who failed in only one OR two papers in V and VI Semesters of B.Com/B.Sc/B.Sc(H.Sc) /BHM /BCA /BBA/B.Music /B. Dance and B.A(OL) DEGREE COURSES Applications are invited from the eligible candidates who have already passed all the papers in I, II, III and IV Semesters and failed only one or two papers in V or VI Semesters of B.A/B.Com/H.Sc / B.Sc(H.Sc) / B.A(O.L)/ BHM/BCA/B.B.A/B.Music/B Dance Degree Examinations held in SEPTEMBER,2020.
The Prescribed manual Instant Examination application forms are available from 21-12-2020 onwards in the 0/0 the Controller of Examinations, S.V.Dniversity, Tirupati. The Instant Examination Notification and Instant Examination Application are available on the University website. WWW.university. edu. in and www.svuexamsug.in
The eligible candidates should submit the following enclosures along with the filled-in Examination application to the Controller of Examinations duly, endorsed by the Principal of the College concerned, where he/she studied last.
a. Original Challan paid Through "E" Challan
b. Copy of marks list (net copy)
SVU UG Exam Fee Details
The following is the fee prescribed for the Instant Examinations to be held in the month of January 2021.
For one paper in any semester of V &VI Rs.2020-00
For two papers in any Semester of V & VI Rs.4040-00
SVU UG 5 & 6th Sem Exam Fee dates:
Start From – 21-12-2020
The last date for payment of Instant Examination fee 31-12-2020
SVU UG Exam Payment Bank Account Details
The Examination fee shall be paid through 'E' Challan in the SBI A/C.
NO.31573992207 OR AB A/C.N0.103210100016716 only.
The Bank Challans are available in the respective Banks at
When SVU UG Instance Exam Conduted and timings
The Instant Examinations will be conducted in two sessions, both in the morning and in the evening sessions between 9.00 A.M.and 12 Noon and 2.00 PM and 5.00 P.M.
How to get SVU Instance Exam Hall Tickets
Candidates are instructed to collect their Hall-Tickets one day before the Commencement of the Examinations through the Examinations Branch or Examinations Centre, S.V. University.
1. The supplementary and malpractice candidates are not eligible to apply for instant examinations.
2. The candidates who have passed all the papers in I, II, III, IV Semesters and failed in one or Two papers in V or VI semesters are only eligible to apply for instant examinations.
3. The students who failed more than two papers in V or VI semesters are not eligible to apply for the Instant Examinations and the fee paid thereon will not be refunded at any cost.
4. NO PRACTICAL EXAMINATION is conducted in the INSTANT Examination.
5. There is no facility of Revaluation/Re-totaling/Personal Identification in the INSTANT Examinations.
SVU Degree 1st/3rd/5th Revaluation Results 2020 – Released
SVU Degree(UG) 5/6th Sem Instance Exam Time Table 2021 – Released
If You Have Any Queries/ Suggestions / Doubts/ Complaints, Feel Free To Comment Below.
Check More Latest Updates