TU Degree Revaluation Recounting Procedure: The Telangana University providing the facilities for the students fo re-counting and re-valuation process. This is mainly useful for the students who think that there is an error in counting the marks of the answer paper or some mistakes have happened during corrections related issues. So to resolve their doubts the RE-correction and Revaluation Process are here to help the Telangana University students. You can check the telanganauniversity.ac.in for updates regarding TU Revaluation. Follow the jntufastresult.com for more information regarding Revaluation and recounting process.
Step by Step Procedure for TU Revaluation & Re-counting process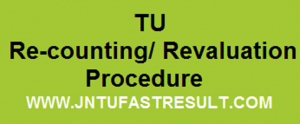 Who can apply the RV/RC process:
The students who gave the exam and got the result from Telangana University, and who are not satisfied with the results obtained from the University can go through the Recounting and revaluation process. The students to be sure enough that he may score more than he got. The increasing in marks only depends on the answer paper on how you presented. So revaluation is the process to re-verify your paper. follow the updates from TU in the jntufastresult.com
How to apply for TU Recounting and Revaluation :
The Recounting and Revaluation process is done only through the Online Payment method. it is mainly specified int he College itself. As it may wary from time to time. So students can suggest to college once before submitting to RC/RV. This is for reference to show you how will be the process done for RC/RV for Telangana University. Here we described the clear step by step to follow for Revaluation and recounting procedure.
Step By Step TU Degree Recounting and Revaluation Procedure:
Get the notification date from the TU for the Revaluation and Recorrection process. The Telangana University will announce the date to submit the Fee for RC/RV.
After getting the notification now you collect your results data and select the subjects as you want to submit for RC/RV.
Here you have to pay the amount as declared in the notification Per each subject.
Fill the form In your College Exam Cell and add your subjects to go for RC/RV.
The students can deposit (credit) the consolidated Revaluation /Recounting fee amount SBI or in any branch of State Bank of India and obtain a receipt from the bank which is to be submitted in the College Examination Cell along with the form.
Fee Particulars are as below:
1. Revaluation : Rs.500/- each paper
2. Recounting : Rs.300/- each paper
3. Revaluation/Recounting form : Rs.25/- each
Important note:
Students can submit their forms in their college only.
There is no revaluations process for Labs.
If You Have Any Queries/ Suggestions / Doubts/ Complaints, Feel Free To Comment Below.
MAIL US AT ANY TIME: JNTUFASTRESULTS@GMAIL.COM OUR TEAM WILL GIVE REPLY TO YOU AS SOON AS POSSIBLE.
Check More Latest Updates