Andhra Pradesh government education minister Adimulapu Suresh has decided to cancel the AP Intermediate, 10th class examination due to the 3rd wave Corona effort on Childers. Please check In detailed Offical Notification as provided below.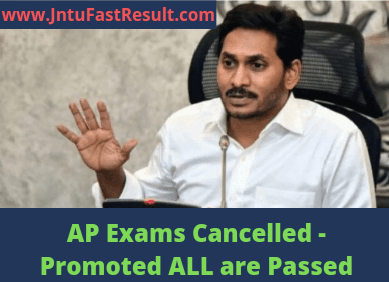 AP Inter, 10th Class Exams 2021 Cancelled (Official) – Confirmed by Minister
AP Inter and 10th Class Exams 2021 Cancelled: Andhra Pradesh State Government has taken a decision on Inter, class 10th examinations cancellation amid COVID emergency. AP Education Minister Adimulapu Suresh has announced on 24-06-2021 (Thursday) about the cancellation of the SSC, Intermediate 2021 examinations.
ఎపి ఇంటర్, 10 వ తరగతి పరీక్షలు 2021 రద్దు (అధికారిక) – మంత్రి ధృవీకరించారు
COVID అత్యవసర పరిస్థితుల మధ్య ఇంటర్, 10 వ తరగతి పరీక్షలను రద్దు చేయడంపై ఆంధ్రప్రదేశ్ రాష్ట్ర ప్రభుత్వం నిర్ణయం తీసుకుంది. ఎస్‌ఎస్‌సి, ఇంటర్మీడియట్ 2021 పరీక్షలను రద్దు చేయడం గురించి ఎపి విద్యాశాఖ మంత్రి ఆదిములపు సురేష్ 24-06-2021 (గురువారం) ప్రకటించారు.
If You Have Any Queries/ Suggestions / Doubts/ Complaints, Feel Free To Comment Below.
More Updates