AP Grama/Ward Sachivalayam Certificate Verification date 2020: Andhra Pradesh Ward / Grama Sachivalayam Results are released on Sept 2020. For selected students is need to attend the certificate verification on one day before the join of the duties. So Those who are taken the AP Grama/Ward Sachivalayam examination are needed to check the Certificate Verification shortlisted candidates list. If you shortlisted the Visit the Nearest Certificate Verification centre to varsity the documents which you uploaded while registering.
AP Sachivalayam Certificate Verification Dates 2021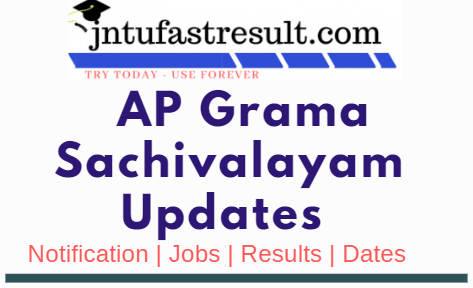 AP Sachivalayam Certificate Verification 2021
| | |
| --- | --- |
| Name of the Board | Andhra Pradesh |
| Name of the Exam | APPSC Grama/Ward Sachivalayam Examinations Result 2020 |
| Exam Month | April 2021 |
| Category | APPSC Results |
| Status | Released |
| Official Website | psc.ap.gov.in |
AP Grama 
Sachivalayam 
/ Ward Sachivalayam Cut Off Marks 2020
40% for OCs (60 Marks)
35% for BCs (52.5 Marks)
30% for SCs, STs and PHs or as per rules (45 Marks)
After AP Grama Sachivalayam Results | AP Grama Sachivalayam Results. What is the Process?
Those who are qualified on your return test one fine day call to certificates verification. Once certificates verification details completed then Ap government released the Join dates for certificates verification candidates.
How To Check Grama/Ward Sachivalayam Certificate Verification Selected/ShortList Candidates:
Preliminary selection from the list of candidates who have passed the Grama Niladhari Competitive Examination with the prescribed marks on the basis of their rank, local / non-local, post preference, women reservation, social class, disability, ex-servicemen and the District Selection Committee headed by the District Collector. Candidates should be informed via SMS and e-mail to attend the designated place for Certificate Verification.
Candidates can download call letters based on their hall ticket number and date of birth from the Village Secretariat website. Candidates who have received the Call Letter should upload their application form, 4th to 10th class study certificates, qualifications, caste/sports/disability/ex-servicemen certificates, antecedent form and other certificates on the website. Certificates thus uploaded should be re-downloaded from the website, printed and handed over to the authorities in two copies during verification.
గ్రామ సచివాలయ పోటీ పరిక్షలో నిర్ణీత మార్కులతో ఉత్తీర్ణులైన అభ్యర్ధుల జాబితా నుండి వారి యొక్క రాంక్, లోకల్/ నాన్ లోకల్, పొస్ట్ ప్రాధాన్యత, మహిళా రిజర్వేషన్, సామాజిక వర్గం, వైకల్యం, ఎక్స్ సర్వీస్ మెన్ మరియు స్పోర్ట్స్ కోటా ల ఆధారంగా జిల్లా కలక్టరు నేతృత్వం లోని జిల్లా సెలక్షన్ కమిటీ పరిశీలన చేసిన అనంతరం ప్రాధమికంగా ఎంపిక అయిన వారికి సర్టిఫికెట్స్ వెరిఫికేషన్ కొరకు నిర్ణీత ప్రదేశంలో హాజరు కావలసిందిగా ఎస్.ఎం.ఎస్ మరియు ఇ మెయిల్స్ ద్వారా అభ్యర్ధులకు సమాచారము పంపట మైనది.
గ్రామ సచివాలయం వెబ్ సైట్ నుండి అభ్యర్ధులు తమ హాల్ టికెట్ నంబరు మరియు పుట్టిన తేది ఆధారంగా కాల్ లెటర్స్ డౌన్లోడ్ చేసుకొనవచ్చు. కాల్ లెటర్ పొందిన అభ్యర్ధులు తమ దరఖాస్తు ఫారం, 4 నుండి 10వ తరగతుల స్టడీ సర్టిఫికెట్స్, విద్యార్హతలు, కులం, స్పోర్ట్స్ / వికలాంగత్వం/ ఎక్స్ సర్వీస్ మెన్ సర్టిఫికెట్స్, యాంటిసిడెంట్ ఫారం మరియు తదితర సర్టిఫికెట్స్ ను వెబ్ సైట్ లో అప్ లోడ్ చేసుకోవలెను. ఆ విధంగా అప్ లోడ్ చేసిన సర్టిఫికెట్స్ ను మరల వెబ్ సైట్ నుండి డౌన్లోడ్ చేసుకొని, వాటిని ప్రింట్ చేసుకొని, వెరిఫికేషన్ సమయంలో అధికారులకు రెండు ప్రతులు అందచేయవలెను.
AP Grama/Ward Sachivalayam Certificate Verification Selected Candidates list – Check Now
Download AP Grama/Ward Sachivalayam Call Letter To Attend Certificate Verification – Download Now
AP Grama/Ward Sachivalayam Question Papers & Answer 
What are the Documents need For AP Sachivalayam Certificate Verification?
1. Two copies of the application form which was uploaded to the website.
2. Two photos, on the rear side of which candidate details shall be given
3. Copy of Hall Ticket
4. Date of Birth Certificate or 10th class pass certificate
5. Certificates of all Education qualifications
6. School Study Certificates 4th to 10th Class
7. Latest Community Certificate issued by the competent authority
8. Medical Certificates for PH Candidates, issued by competent Board/Authority
a) Medical Certificate for Blind (For VH)
b) Certificate of Hearing Disability and Hearing Assessment (For HH)
c) Medical Certificate in respect of Orthopedically Handicapped Candidates (For OH)
9. Sports Merit certificates (In case of candidates selected under sports quota)
10. Ex-service Men Certificates (In case of Candidates Selected under Ex-Service Men Quota) issued by competent Unit Head
11. Creamy Layer Certificate (For all BC Candidates)
12. Residence Certificate, if you are claiming local status as a private candidate
13. Duly filled & signed Antecedent Verification form downloaded from candidate's log-in
14. Certificate of experience issued by the competent district head of the dept including the length of service/weightage marks, if any.
15. Two sets of prints/photocopies of all Certificates that are uploaded to the website (when uploaded Certificates are printed, Hall Ticket no. of the candidate is also printed. Only such copies that have Hall Ticket no. printed are accepted) duly attested by the candidate.
16. Other Certificates, if any mentioned in Application
Note:
1.This intimation is only for Certificate Verification and doesn't confer any right whatsoever to claim the job.
2.If any candidate failed to attend for Certificate Verification on the above date, will forfeit their candidature and the next candidate in merit in the respective category/community
will be considered.
3.If any candidate fails to produce any one of the certificate(s) and the particulars furnished in the application do not tally with the original documents produced by the candidate, the candidature will be rejected/disqualified without any further correspondence.
When was the AP Sachivalayam Join Dates for Selected Candidates:
Not Yet Released
If You Have Any Queries/ Suggestions / Doubts/ Complaints, Feel Free To Comment Below. MAIL US AT ANY TIME: JNTUFASTRESULT@GMAIL.COM OUR TEAM WILL GIVE REPLY TO YOU AS SOON AS POSSIBLE.
Check More Latest Updates