JNTUH B.Pharm 1-2 Results 2021: Jawaharlal Nehru Technological University-Hyderabad (JNTUH) is conduted the 1st year 2nd semester Regular and Supply Exam on Sept 2021 For R17 & R16 Regulations. So JNTU Hyderabad University is going to declare the JNTUH b.pharm 1-2 sem Results 2021. So students can get your JNTUH B.Pharm 1-2 Sem R17 Regulation Regular & supply Examination Results and JNTUH B.Pharm 1-2 Sem R16 Regulation supply Examination Results Links is updates by the jntufastresults. You can check the JNTUH B.pharmacy 1-2 Results status and details of jntuh 1-2 results dates below.
JNTUH B.Pharm 1-2 Sem Exam Results 2021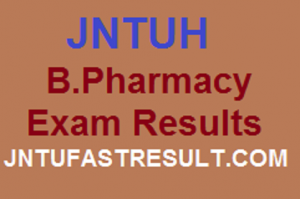 JNTUH B.Pharm 1-2 Regular & Supply Exam Results 2021
University
Jawaharlal Nehru Technological University,

Hyderabad

(JNTUH)
Course
B.Pharmacy
Categories
JNTUH 1-2 Semester Results
Year
1st year 2nd semester
Regulation
R17
Exam type
Regular/Supply Examinations
Exam Month
Sept 2021
Status
Released
JNTUH B.Pharm 1-2 Sem R17, R16 Regulation Exam Results 2021
The B.pharmacy students who are waiting for the exam results now get alert as the JNTU of Hyderabad is going to give results announcement very soon. The students who are in search of results for B.Pharm. who gave their third year first sem papers are going to get the results that are released by the JNTUH. Here from jntufastresult.com you can get more information and updates about the JNTUH B.Pharm 1-2 Sem exam results. Students of the year Ist who are writing the II semester results may get their updates here.
JNTUH B.PHARMACY I YEAR II-SEMESTER– R17 REGULATION SUPPLEMENTARY EXAMINATIONS Sept 2021
How to Find the JNTUH B.Pharm 1-2 Regular Examination Results:
The students of JNTUH B.Pharm are waiting for the results here there is the process of how to check the results.
Check thejntufastresult.com website for an easy way of getting results.
You can also check Jntuh.ac.in the official website
there you can go with the result notification just click on your specific course.
Then Enter the Hall Ticket number
Now you got your result just copy and paste for further use.
Step -1: Exams – Completed
Step -2: Valuation – completed
Step-3: Results Upload – Completed
JNTUH B.Pharm 1-2 Semester Exam Results Sept 2021
JNTUH B.Pharmacy 1-2 Semester (R17) Supplementary Examinations Results Sept 2021 – Result Link 1 | Result Link 2
Note :
Last Date for Recounting / Revaluation : 25-12-2021
As per prevailing practice since 2012, if difference of marks after revaluation and first valuation is more than or equal to 15% of maximum external marks then revaluation marks will be retained. If the change is less than 15% or marks secured in revaluation is less than first valuation marks, the first valuation marks shall be retained.
Enter "Hall Ticket Number" in Capital Letters only.
P indicates PASS
F indicates FAIL
-1 in External Marks indicates ABSENT
-2 in External Marks indicates WITHHELD
How to Apply JNTUH Recounting/Revaluation and Challenge valuation For B.Pharm Results:
The students who are not satisfied with the results of B.pharm of JNTUH can go with the tree options to increase their marks. The revaluation (RV), Recounting(RC), Challenge Valuation (CV). The JNTUH will announce the dates for these Recounting/Revaluation and Challenge valuation process only through online application and bank payment through Challan.
Procedure to apply for JNTUH Recounting
Procedure to Apply For JNTUH Challenge Valuation
JNTUH B.Pharm 1-2 Semester Exam Results July 2021
JNTUH B.Pharmacy 1-2 Semester (R17) Supplementary Examinations Results – July 2021
Result Link 1 | Result Link 2
JNTUH B.Pharmacy 1-2 Semester (R16) Supplementary Examinations Results – July 2021
Result Link 1 | Result Link 2
JNTUH B.Pharm 1-2 Sem R17, R16 Regulation Regular & Supply Exam Results 2020
JNTUH B.Pharmacy 1-2 Semester (R17) Regular/Supplementary Examinations Results – November 2020 – Result Link 1 | Result Link 2  ( Released on 27th Jan 2021)
JNTUH B.Pharmacy 1-2 Semester (R16) Supplementary Examinations Results – November 2020 – Result Link 1 | Result Link 2 ( Released on 27th Jan 2021)
If You Have Any Queries/ Suggestions / Doubts/ Complaints, Feel Free To Comment Below. JNTUFASTRESULTS@GMAIL.COM
Check More Latest Updates