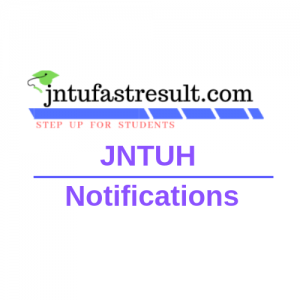 JNTUH Exam Time Table March 2020
JNTUH Inst ration to all the Students Regrading the Learning Activities 2020
As per instruction of the Government, the University has been observing the lockdown
for all the Constituent and Affiliated (Autonomous and Non-Autonomous) Colleges and classes
have been suspended in the college premises till 14 th April, 2020. For effective utilization of
time, students are to be engaged in learning activities during lockdown period.
In this regard, all the Principals/ Directors of Constituent, Affiliated (Autonomous and
Non-Autonomous) Colleges are informed to explore suitable on-line methods to help students
and facilitate the faculty accordingly amid the coronavirus (COVID-19) lockdown period. After
lockdown period, the University may conduct examinations as per the instructions that will be
given from time to time.
JNTUH University & Colleges Are Extended holidays till April 30th 2020 – Update
Share this Information to all your Friends & Your Social Media Groups & Whatsapp Groups.
JNTUH Guidelines/Learning Activities to Students
The following methods are suggested to engage students in teaching and learning
activities:
1. E-mail groups: The faculty can share reading materials, Power Point Presentations
(PPTs) through e-mail group IDs.
2. Video Lectures: The faculty can record their lectures and share it through Google
drive, e-mail and Whatsapp or upload in the website.
3. Skype: The faculty can delivered their lectures through skype
4. ZOOM, jitsi meet: Theses are freely downloadable and lectures can be delivered
through PPTs and handouts
5. MOOCs available in NPTEL and SWAYAM Platforms: The faculty can identify
the teaching materials from the above sources and recommend to the students or
6. Any other means and ways with which faculty can reach out the students in handling
online classes and assignments/projects.
In this context, all the Principals/ Directors are informed to facilitate the faculty
members, both regular and contract faculty to conduct on-line teaching. Further, the
Principals/Directors are informed to submit a report (as per the Annexure) on the measures taken
for their Colleges in this regard by 10.04.2020.
JNTUH Decided No Payment To faculty During Lockdown Period
JNTUH Extended/Postponed Exam Fee Dates & Exam dates 2020
If You Have Any Queries/ Suggestions / Doubts/ Complaints, Feel Free To Comment Below.
MAIL US AT ANY TIME: JNTUFASTRESULT@GMAIL.COM OUR TEAM WILL GIVE REPLY TO YOU AS SOON AS POSSIBLE.
~Check More Latest Updates~