JNTUH M.Pharmacy Rc/Rv Results: jntuh is conducted m.Pharmacy 1st/2nd/3rd-semester exam for all (R13, R15, R17 R19) Regulations and released the jntuh m.pharm results 2021. So students who are not satisfied with jntuh results are applied for released JNTUH M.Pharmacy R19/R13/R15/R17 Recounting /Revaluation procedure and waiting for jntuh m. pharm Results on below we provided a direct link to check on below.
JNTUH M.Pharmacy Rc/Rv Results 2021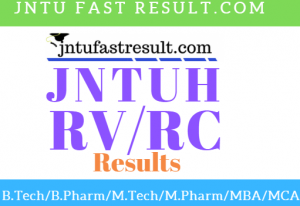 How To Check JNTUH M.Pharmacy Recounting /Revaluation Results:
Candidates can check the JNTUH M.Pharmacy R13, R15, R17 Recounting/Revaluation Results from the official website or from the link which we are given in below.
Click on the "results Link".
Now save or take the printout of PDF.
And also the option to apply for Challenge Valuation
JNTUH  M.Pharmacy I, II, III Semester (R19, R17, R15) Regular/Supplementary Exam RC/RV Results April 2022
Note :
Results Announced on 22-08-2022
LAST DATE TO APPLY FOR CHALLENGE VALUATION : 29-08-2022
A New RC/RV memo will be issued to only if there is a Change in Grade.
As per prevailing practice since 2012, if difference of marks after revaluation and first valuation is more than or equal to 15% of maximum external marks then revaluation marks will be retained. If the change is less than 15% or marks secured in revaluation is less than first valuation marks, the first valuation marks shall be retained.
JNTUH M.Pharmacy Regular and Supple Exams RC/RV Results October 2021
JNTUH M.Pharmacy Regular and Supply Exam March / July / August 2021 RC/RV Results
Note :
Results Announced on 14-10-2021
LAST DATE TO APPLY FOR CHALLENGE VALUATION: 21-10-2021
JNTUH M.Pharmacy III Sem Rc/ Rv Results 2020
JNTUH M. Pharmacy III Semester (R19) Regular Exam RC/RV Results Feb 2021 — Results Link ( Not Yet Released )
JNTUH M. Pharmacy III Semester (R15) Supplementary RC/RV Results Feb 2021 — Results Link ( Not Yet Released )
JNTUH M. Pharmacy III Semester (R17) Supplementary RC/RV Results Feb 2021 — Results Link ( Not Yet Released )
JNTUH M.Pharm 2nd Semester (R19) Regular during COVID Pandemic Examinations RC/RV Results January 2021
JNTUH RC/RV Results For M.Pharmacy II Semester (R19) Regular during COVID Pandemic Examinations January 2021 —Result Link 1  (Results Announced on 06-04-2021)
Note :
LAST DATE TO APPLY FOR CHALLENGE VALUATION: 15-04-2021
JNTUH M.Pharmacy I Sem Rc/ Rv Results October  2020
M. Pharmacy I Semester (R13) Supplementary RC/RV Results – Oct/Nov 2020
– Results Link ( Released 23rd Feb 2021 )

M. Pharmacy I Semester (R15) Supplementary RC/RV Results – Oct/Nov 2020
– Results Link ( Released 23rd Feb 2021 )
M. Pharmacy I Semester (R17) Supplementary RC/RV Results – Oct/Nov 2020
– Results Link ( Released 23rd Feb 2021 )

M. Pharmacy I Semester (R19) Supplementary RC/RV Results – Oct/Nov 2020
– Results Link ( Released 23rd Feb 2021 )
JNTUH M.Pharmacy II Sem Rc/ Rv Results October 2020
M. Pharmacy II Semester (R13) Supplementary RC/RV Results – Oct/Nov 2020
– Results Link ( Released 23rd Feb 2021 )

M. Pharmacy II Semester (R15) Supplementary RC/RV Results – Oct/Nov 2020
– Results Link ( Released 23rd Feb 2021 )
M. Pharmacy II Semester (R17) Supplementary RC/RV Results – Oct/Nov 2020
– Results Link ( Released 23rd Feb 2021 )

M. Pharmacy II Semester (R19) Supplementary RC/RV Results – Oct/Nov 2020
– Results Link ( Released 23rd Feb 2021 )
JNTUH M.Pharmacy III Sem Rc/ Rv Results 2020
M. Pharmacy III Semester (R13) Supplementary RC/RV Results – Oct/Nov 2020
Result Link 1 | Result Link 2 | Result Link 3

M. Pharmacy III Semester (R15) Supplementary RC/RV Results – Oct/Nov 2020
Result Link 1 | Result Link 2 | Result Link 3
M. Pharmacy III Semester (R17) Supplementary RC/RV Results – Oct/Nov 2020
Result Link 1 | Result Link 2 | Result Link 3

JNTUH M.Pharmacy IV Sem Rc/ Rv Results 2020
M. Pharmacy IV Semester (R13) Supplementary RC/RV Results – Oct/Nov 2020
Result Link 1 | Result Link 2 | Result Link 3

M. Pharmacy IV Semester (R15) Supplementary RC/RV Results – Oct/Nov 2020
Result Link 1 | Result Link 2 | Result Link 3
M. Pharmacy IV Semester (R17) Supplementary RC/RV Results – Oct/Nov 2020
Result Link 1 | Result Link 2 | Result Link 3
JNTUH Results | JNTUH Fast updates | All jntu results:
If You Have Any Queries/ Suggestions / Doubts/ Complaints, Feel Free To Comment Below. MAIL US AT ANY TIME: JNTUFASTRESULT@GMAIL.COM OUR TEAM WILL GIVE REPLY TO YOU AS SOON AS POSSIBLE
Related searches
JNTUH previous QUESTION PAPERS
Download JNTUH M.Pharmacy and m.pharm Syllabus books