JNTUH MCA 1st Semester Notification 2022: JNTUH is going to conduct the MCA 1st regular and supply examinations for (R20/R19/R17/R15,R13) Regulations of (R20-2020 ADMITTED BATCH R19-2019, ADMITTED BATCH, R17-2017, 2018 ADMITTED BATCHES, R15-2015, 2016, ADMITTED BATCHES, R13-2013, 2014 ADMITTED BATCHES). So, students who are eligible for JNTUH MCA 1st sem Exam Fee notification 2022. Are go through the below information and exam dates.
JNTUH MCA I Semester Exam fee Notification May 2022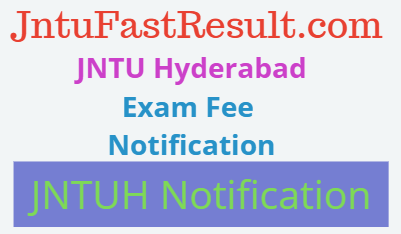 JNTUH MCA 1st Sem Exam Notification May 2022
University
Jawaharlal Nehru Technological University,

Hyderabad

(JNTUH)
Course
MCA
Categories
JNTUH MCA 1st Semester Notification
Year
1st year 1st semester
Regulation
R20/R19/R17/R15,R13
Exam type
Regular & Supply Examinations
Exam Month
May 2022
Status
Released on 31st March 2022
Latest Updates
JNTUH MCA 1st Sem Fee Notification 2022
The students who appear for the above examinations commencing from 02-05-2022 are to note that the online registration for University examinations will be carried out as per the time schedule given below :
MCA I SEMESTER – (R20, R19, R17, R15,R13) REGULAR/ SUPPLEMENTARY EXAMS – May-2022. (R20-2020, 2021 ADMITTED BATCHES, R19-2019 ADMITTED BATCH, R17-2017, 2018 ADMITTED BATCHES, R15-2015, 2016 ADMITTED BATCHES, R13- 2014 ADMITTED BATCH)
JNTUH MCA 1st Sem Exam Registration & Last Dates :
Without Late Fee
01-04-2022
11-04-2022
With Late Fee of Rs.100 /-
12-04-2022
16-04-2022
With Late Fee of Rs.1000 /-
17-04-2022
22-04-2022
With Late Fee of Rs.2000 /-
23-04-2022
25-04-2022
With Late Fee of Rs.5000 /-
26-04-2022
30-04-2022
With Late Fee of Rs.10000 /-
* This late fee application should be manually submitted along with demand draft.
 01-05-2022
Till End of Exams
JNTUH MCA 1st Semester Examination Fee :
FOR WHOLE EXAMINATION: Rs. 955/-
FOR ONE SUBJECT: Rs.365/-
FOR TWO SUBJECTS: Rs.615/-
FOR THREE SUBJECTS: Rs.840/-
FOR FOUR SUBJECTS AND ABOVE: Rs.955/-
Note :
1. In the case of Physically Handicapped students (deaf, dumb, hearing impaired, orthopedically handicapped, and visually handicapped) as per University Proceeding No. JNTUH/EB/11148/2/ Concessions extended to the Physically Challenged students/2018, Dated.20-01-2018, the Principals are requested to allow for exemption of the examination fee for such students The relevant documentary evidence and the list of those students is to be submitted at the counter in the Examination Branch on the day of stationery collection.
2. If there are any discrepancies like the question is incomplete in the question paper or a question is out of syllabus, all such discrepancies should be submitted to the Director of Evaluation within 3 days of that examination. Otherwise such requests will not be entertained.
3. The Condonation fee is Rs.300/- per candidate for any number of subjects.
If You Have Any Queries/ Suggestions / Doubts/ Complaints, Feel Free To Comment Below.
MAIL US AT ANY TIME:JNTUFASTRESULTS@GMAIL.COM OUR TEAM WILL GIVE REPLY TO YOU AS SOON AS POSSIBLE.
Check More Latest Updates.