JNTUK jumbling centers List 2022: the University of JNTU Kakinada conducted the exams for every semester wise and twice in a year for all MBA/MCA/MAM/IMBA Courses. For JNTUK  Semester Exam university changes the exam center from on college to another college due to malpractices in there own college centers. For that JNTUK MBA Exam centers List 2022, JNTUK IMBA Exam centers List 2022 and JNTUK MCA Exam centers List 2022 and finally, JNTUK MAM Exam centers 2022 List is updated on below for each and every semester.
JNTUK PG Exam Centers 2022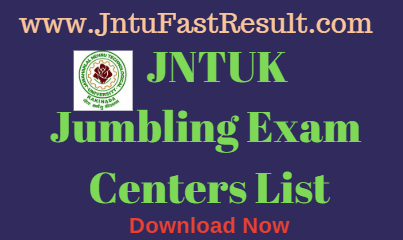 JNTUK PG Jumbling Exam Centers List 2022
| | |
| --- | --- |
| University | Jawaharlal Nehru Technological University- Kakinada |
| Categories | JNTUK Exam Centers |
| Semester | 2nd Semester |
| Course | M.Tech / M.Pharm  |
JNTUK PG Jumbling Centers List 2022
Every student must check there exam center for your final semester exams as conducted the JNT University Kakinada. Here we updated the Jumbling exam centers list for every year and every semester 10days before the exam dates as per university exam time table notifications.
Why JNTUK Jumbling System Implemented For Semesters exams?
 Malpractices are increasing day by day to reduce that malpractices jntuk decided to shift their colleges to another jntuk college as in your regions. For that time some of the malpractices are decreases. So all the jntuk students are must be shifted to other engineering colleges for the semester exams.
JNTUK MBA Jumbling Exam Centers List 2022
Jntuk MBA 1st Sem Exam centers 2022 – Not yet Released
Jntuk MBA 2nd Semester Jumbling Exam centers Sept 2022 – Download/View PDF – (Released on 9th Sept 2022)
Jntuk MBA 3rd Sem Exam centers 2022 – Not yet Released
Jntuk MBA 4th Sem Exam centers 2022 – Released
JNTUK MCA/IMBA/MAM Regular/supply Exam Time Table 2022
JNTUK MCA Jumbling Exam Centers List 2022
Jntuk MCA 2nd Semester Jumbling Exam centers Sept 2022 – Download/View PDF – (Released on 9th Sept 2022)
Jntuk MCA 4th Sem Exam centers 2022- Released
Jntuk MCA 8th Sem Exam centers 2022- Released
Jntuk MCA 3rd Sem Exam centers 2022 – Not yet Released
Jntuk MCA 4th Sem Exam centers 2022 – Not yet Released
Jntuk MCA 5th Sem Exam centers 2022 – Not yet Released
Jntuk MCA 6th Sem Exam centers 2022 – Not yet Released
JNTUK MCA/IMBA/MAM Regular/supply Exam Results 
JNTUK MAM Jumbling Exam Centers List 2022
JNTUK MAM VIII Sem Regular/Supple jumbling exam centers 2022 – Released
JNTUK IMBA Jumbling Exam Centers List 2022
Jntuk IMBA 4th Sem Exam centers 2022 – Released
Jntuk IMBA 8th Sem Exam centers 2022 – Released
Jntuk IMBA 2nd Sem Exam centers 2022 –  Released
Jntuk IMBA 4th Sem Exam centers 2022 – Not yet Released
Check More Latest Updates