Procedure to apply for JNTUK OD Corrections: Many students got their OD certificates with mistakes either ( surname or name or other). If you face any issues then correct them now only otherwise you will face more problems further. So once you check after your certificates are released. If any mistakes you got on that certificate then immediately contact your respected universe to updated your marks memos and Certificates. Provided Information For The procedure to be followed to obtain Name Corrections in certificates [Origina Degree (OD) ] and Name Corrections in Provisional Certificate or JNTUK Name Corrections in Degree Certificate.
How To pay JNTUK OD Certificate Correction Fee thorough Online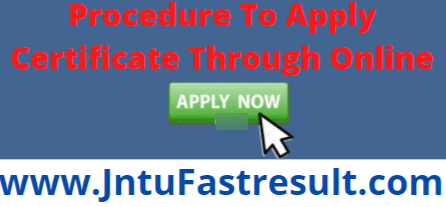 Note: This procedure is Only For student those who got Your ORiginal Degree but have Some mistakes on your jntuk OD then You can Follow this Procedure then you will get new Original Degree to your Submitted/Prefered Address
JNTUK Procedure to apply for Corrections in OD (Original Degree)
Step 1: Visit the link provided Below and Then Select the Checkbox "I have read and accepted the terms and conditions stated above." & Click on "Proceed".
Step 2: Select Payment Category "Original Degree Correction".
Step 3: Select "Name Correction / Father Name Correction / Others" from Correction Type dropdown
Step 3: Fill in the details & Make a Payment of Rs. 500/-
NOTE: After payment, the student only has to submit the printed payment receipt, Original OD Certificate, Identity proof, Application form to the university examination section BY POST for the issue of New OD. The Corrected OD will be posted to the above address (Check JNTUK Postal Address)
JNTUK OD Corrections Procedure Payment Link – Payment LINK
If You Have Any Queries/ Suggestions / Doubts/ Complaints, Feel Free To Comment Below.
More Updates: