Krishna University UG 6th & 5th Sem Exam Notification 2020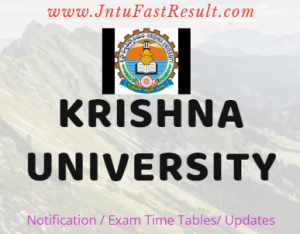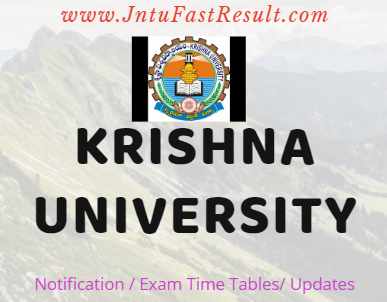 UG Instant Examinations of B.A.,B.A(OL), B.Com.(Gen,Comp & Tax), B.Sc, B.Sc (H
& HA), BBA and B.C.A for 2017-20 outgoing batch is scheduled to be conducted in the
the fourth week of December 2020 and the form of Examination Application is kept in the
concerned college login IDs.
The Principals of the respective colleges are directed to submit Examination Applications
of eligible candidates 1.e.,
(i) Failed/absent in any two of the subjects/papers in the final year course of study i.e.
either two subjects/papers in V semester or in VI Semester or One Subject/paper in
V Semester and One subject/paper in VI semesters of regular batch students (2017-20
batch Only)
(iI) And the student ought to have passed all the subjects/papers in the First year (I & IT
semester) and Second year (III & IV Semesters) at the time of applying for instant
examination.
Krishna University UG instant Examination Fee Details:
B.A, B.A(OL), B.Com.(Gen,Comp & Tax), BBA, B.C.A. B.Sc, B.Sc (H & HA)
Single paper -Rs.1500/-
Two papers — Rs.2000/-
Krishna University UG Last date of fee without fine – 17.12.2020
Krishna University UG Exam Conditions:
(a) There is no Revaluation for the Instant Examination.
NOTE:
1. Fresh Hall Tickets will be issued and hall tickets should be collected at the examination centre on the day of the exam.
2. If anyone applies and pays fees without having eligibility as per University norms may be automatic gets cancelled.
When Will Krishna University UG Instance Supply Exams Start From?
The Examinations will commence from 21-12-2020 (Tentatively)
KU Fast Updates | KU Updates | KU Fast Result
If You Have Any Queries/ Suggestions / Doubts/ Complaints, Feel Free To Comment Below.
MAIL US AT ANY TIME:JNTUFASTRESULT@GMAIL.COM OUR TEAM WILL GIVE REPLY TO YOU AS SOON AS POSSIBLE.
Check More Latest Updates.