MGU-Nalgonda B.Tech All Semesters (Regular & Backlog) Examinations Fee Notification – May 2020.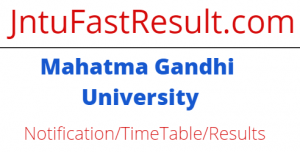 MGU B.Tech Exam Fee Notification 2020 – Eligibility
It is hereby notified to all the eligible candidates of B.Tech. to register for the Semester Regular, Backlog, Improvement Examinations for the following semesters.
(I) Semesters IV, VI, VIII Regular & Backlog/ Improvement (CBCS).
(II) Semesters I, II, III, V, VII Backlog/ Improvement (CBCS).
(III) All Semesters I, II, III, IV, V, VI, VII & VIII (Non-CBCS) Backlog.
MGU B.Tech Exam Fee Dates 2020 – Last Dates
The Examinations are scheduled in the month of June 2020. The detailed Time-Table will be notified in due course. The schedule for payment of examination fee and submission of examination application forms at the respective college is given below.
To Students: Payment of Examinations fee and submission of Examination application forms at their respective colleges
Without late fee: 04.06.2020
With late fee of Rs.200/-: 06.06.2020
To Colleges  1. Remittance of consolidated Examination fee through a SBI Challan Account No. 62422450289 (Bank Code No. 21270) 2. Preparation & Submission of E.A.F. Online
Without late fee:  05.06.2020
With late fee of Rs.200/-:08.06.2020
2. Submission of printed EAF form along with NR & Fee Abstract etc to the Exam Branch, MGU 09.06.2020
DETAILS OF EXAMINATION FEE:-
| | | |
| --- | --- | --- |
| Particulars | Fees for All Paper | Up to 3 Papers |
| Without Late Fee | Rs. 1100 + *60 |  Rs. 560 + * 60 |
| With Late Fee | Rs. 1300+ *60 | RS. 760+ * 60 |
| Memo Charges | Provisional Certificate and Consolidated Certificate Rs. 360/- in addition should be collected for the semester VIII Regular students only.  | |
Note: No application will be accepted after the last date of submission from any college and also honored direction from any corner
Note: Principal is requested to forward the applications of those candidates whose attendance is more than 75% (for Regular Semesters only).
Important Details:
1. The exact date of commencement of the Examinations and detailed time table will be notified in due course.
2. The Examination application forms of students are to be submitted online through college login. Also, hardcopy of the same may be downloaded and submitted to the examination branch duly signed by the student and the Principal concerned along with a photocopy of Qualifying Examination.
3. The Examination fee once paid by the candidate/college will not be refunded or adjusted.
4.
a) Not to collect the Exam fee from Visually Challenged, Differently abled, hearing impaired Blind, Physically Disabled, Deaf & Dumb students as per Government Orders, Xerox Copy of Medical Certificate confirming their status as disabled Handicapped. (Minimum percentage of disability must be of 40%) must be attached to the Application forms. Blind, Physically Disabled, Deaf & Dumb Students Application forms should be submitted separately along with Separate Nominal Roll.
b) Inform the students that the examination fee & application forms will not be accepted after the due date
c) Instruct the students to enclose the photocopies (Xerox copies) of the memorandum marks of qualifying examination to verify the eligibility.
d) Note that the Hall Ticket No allotted to a candidate at the time of admission shall not be changed or allotted to another candidate, even if the first candidate has canceled his/her admission.
e) Forward only the Examination application forms of the candidates who have put in required Percentage of attendance (75%) and submit the attendance statements.