TCS EnQuode Results 2019: TCS is conduted the TCS ENquode contest 2019 for  B.E/B. Tech graduates of 20201 and 2021 pass outs are eligible for this TCS contest 2019. Here on below Jntu Fast Results portal provided the TCS ENQuode contest register link and Contest Dates and Prices information and results data and information about the 3rd July 2019 results on below.
TCS EnQuode Results 2019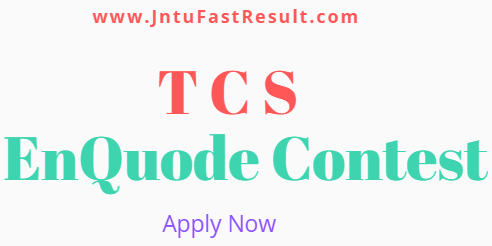 About EnQuode: EnQuode is an individual contest for engineering students from YOP 2020 & 2021. It is open to students across India. The contest is based on concepts of Quality Engineering, with 3 rounds.
EnQuode will focus on Analytical, Programming, Automation, Agile/DevOps, and Digital skills to build Quality Engineers aligned to market needs. The goal is to enable quality engineering in software by leveraging digital and new age technologies in an automation first mode of operation. This will be the focus of EnQuode 2019.
When TCS ENQuode contest 2019 Conducted?
Tcs Online Quiz exam is conducted on 3rd July 2019. Many of the B.E/B. Tech graduates of 20201 and 2021 pass outs Students are attended for this TCS ENQuode contest 2019 and waiting for the next phase of results.
How to check TCS ENQuode contest 2019 Results?
Those who are taken the TCS ENQuode Online quiz exam through online on 3rd July 2019 are ready to check your results updates and qualified students got mail for TCS portal and move to next round of the process.
Share this Information to all your Friends & Your Social Media Groups and Whatapp Groups. Don't Forget to check Daily jntu fast result Recruitment Updates and Jobs Notification.
What after TCS ENQuode Results Process?
Those who are selected on the TCSENQuode Online test then further Details about TCS ENQuode contest 2019 details are sent to your emails. Those TCS ENQuode contest 2019 next process is given on below.
Case Study & Presentation
Starts: 

20th Jul 2019, 04:30 UTC

Ends: 

5th Aug 2019, 12:30 UTC

Takes Place Online
Check -> Latest Walk-In Interview Updates
Check -> Upcoming Off-Campus Drives
Check -> HOW TO CRACK TCS TECHNICAL INTERVIEW AND HR ROUND
Also, Apply –> TCS CodeVita Contest Hiring 2019 For 2020/2021/2022/2023 Pass Outs
If You Have Any Queries/ Suggestions / Doubts/ Complaints, Feel Free To Comment Below.
Check More Latest Updates