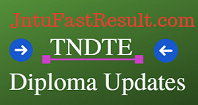 TNDTE Oct 2021 Reopening Revised date
The government has announced that all courses except the first year, conducted in Polytechnic Colleges shall commence through online mode from 09.08.2021 for the academic year 2021-2022.
Hence, all the Principals are requested to commence the classes from 09.08.2021 for all the courses except the first year in online mode, till further orders without inviting students to Colleges. This letter supersedes the communication given in the reference letter cited (2) above.
Wherever possible existing resources like DOTE e-Lectures, SWAYAM, NPTEL and other MOOC courses (if found in line with the syllabus) may be utilized for this purpose.
The comprehensive lists of e-lectures for various branches are available in the DOTE's website:
http://www.tndte.gov.in/site/e-lectures/ The tentative schedule and spell details will be intimated in due course.