AP EAMCET 2022: Andhra Pradesh Engineering, Agriculture and Pharmacy Common Entrance Test (AP EAPCET) Online Application Form, Exam Date, Syllabus, and Notification For Engineering, Agriculture and Medical Common Entrance Test-2022 (APEAMCET-2022) of Andhra Pradesh will be conducted through a computer-based test by Jawaharlal Nehru Technological University, Kakinada for entry into the first year of the following professional courses offered for the academic year 2022-2022. Candidates who wish to apply for APEAMCET-2022 shall submit their application through online mode only. The detailed information regarding eligibility, age, syllabi, related instructions are available on the website: https://sche.ap.gov.in/eamcet
AP EAPCET 2022 Notification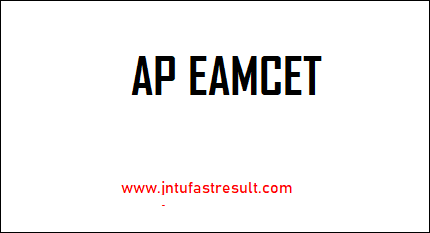 Overview Of AP 2022 Eamcet Entrance Exam
AP EAMCET Exam Results 2022 Date
Organization Name
Jawaharlal Nehru Technological University Kakinada (JNTUK) on behalf of Andhra Pradesh State Council of Higher Education (APSCHE)
Exam Name
Andhra Pradesh Engineering Agriculture and Medical Common Entrance Test 2022
Level of Examination
State Level.
Application Mode
Online.
Exam Date
4th to 8th July, 2022

Time: 10 AM to 01.00 PM & 2.30 PM to 5.30 PM

Notification Release Date
11-04-2022
Category
Notification
Official Website
https://sche.ap.gov.in/EAMCET/
AP EAPCET 2022 Important Dates
Notification of AP EAPCET – 2022
11.04.2022
Commencement of Submission of Online application forms
11.04.2022
Last date for submission of online applications without late fee
10.05.2022
Last date for submission of online applications with late fee of Rs. 500/-
20.06.2022
Correction of online application data already submitted by the candidate
23.06.2022 to 26.06.2022
Last date for submission of online applications with late fee of Rs. 1000/-
25.06.2022
Last date for receipt of online applications with late fee of Rs. 5000/-
01.07.2022
Downloading of Hall-tickets from the website https://cets.apsche.ap.gov.in/eapcet
27.06.2022
Last date for receipt of applications with late fee of Rs. 10000/-
03.07.2022
Date of AP EAPCET Examination (Engineering)
04.07.2022 to 08.07.2022
Time of Engineering Examination
09.00 AM to 12.00 PM
03.00 PM to 06.00 PM
Dates of AP EAPCET Examination (Agriculture & Pharmacy)
11.07.2022 to 12.07.2022
Time of Agriculture Examination
09.00 AM to 12.00 PM
03.00 PM to 06.00 PM
AP EAMCET Courses
Engineering, Bio-Technology, B.Tech (Dairy Technology), B. Tech (Agrl. Engg.) B.Tech (Food Science and Technology).
B.Sc (Ag) / B.Sc. (Hort) / B.V.Sc. & A.H / B.F.Sc.
B. Pharmacy, Pharma. D
Registration Fee:
Engineering (E) / Agriculture & Medical (AM): Fee 500/-
Both Engineering and Agriculture & Medical (E & AM): Fee 1000/-
AP EAPCET Syllabus for Engineering Subject
Mathematics
Algebra
Trigonometry
Vector algebra
Measures of dispersion and probability
Coordinate geometry
Calculus
Physics 
Physical-world
Units and measurements
Motion in a straight line
Motion in a plane
Laws of motion
Work, energy, and power
Systems of particles and rotational motion
Oscillations
Gravitation
Mechanical properties of solids
Mechanical properties of fluids
Thermal properties of matter
Thermodynamics
Kinetic theory
Waves
Ray optics and optical instruments
Wave optics
Electric charges and fields
Electrostatic potential and capacitance
Current electricity
Moving charges and magnetism
Magnetism and matter
Electromagnetic induction
Alternating current
Electromagnetic waves
Dual nature of radiation and matter
Atoms
Nuclei
Semiconductors electronics: Materials, devices, and simple circuits
Communication systems
Chemistry
Atomic Structure
Chemical Bonding and Molecular Structure
States of Matter: Gases and Liquids
Stoichiometry
Thermodynamics
Classification of Elements and Periodicity in Properties
Chemical Equilibrium and Acids-Bases
Hydrogen & its Compounds
The S-Block Elements
P- Block Elements Group 13 (boron family)
P-Block Elements Group 14 (carbon family)
Environmental Chemistry
Organic Chemistry – Some Basic Principles and Techniques
Solid State
Solutions
Surface Chemistry
P- Block Elements
D and F Block Elements.
How To Apply to EAPCET 2022 Through Online?
Click On the below provided Link And It opens the Offical AP EAPCET 2022 Portal.
First Candidates Need to Pay an Amount to Start Registration. So Click on Step-1: Fee Payment
Once Step-1 is Done then In Step-2 Need to Check the Status of your Payment
After Step-2, Now Candidate Needs to Fill the Online Application Details in Step-3 ( Note: this Step-3 Online Application Fill Up is very Important, Fill the Details without Any Mistakes as per the AP 10th SSC memo)
In this Step-4, you have to Cross check the application status with your Above Provided details, Once everything is okay then Submit the Application.
Finally, Step-5, to Take the print of the Application Acknowledgement.
AP EAPCET 2022 Online Application –> Click Here To Apply
More Related Post
AP EAMCET 2022 Question papers
AP EAMCET 2022 Exam Dates & Timings
You Have Any Queries/ Suggestions / Doubts/ Complaints, Feel Free To Comment Below.
~More Updates~