APPSC Group-II Admit Cards 2019: APPSC released the Group-II Recruitment 2019 for  Group-II service in A.P. Govt. In below we provided all the information and details about Group-II Recruitment 2019. Check the below information and share this page to all the applicant uses to know the process and eligibility details. FOr all the candidates apply through this notification through the online mode as in the given below link as updates as soon as possible. Those all AP PSC ADMIT card 2019 is provided in this page for all appsc, and all other govt exams.
APPSC Group-II Admit Cards 2019 – Recruitment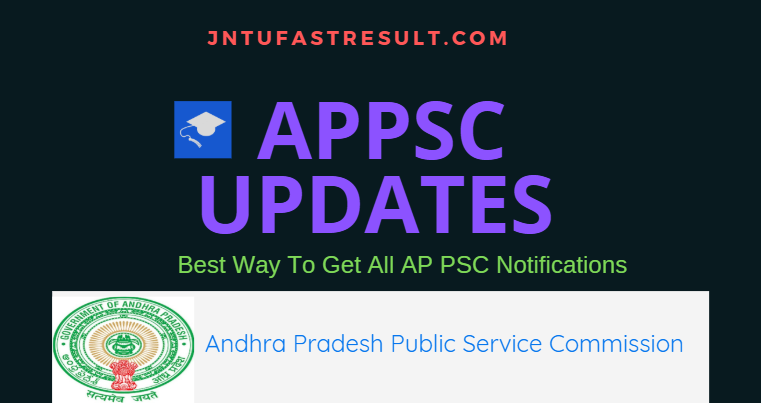 APPSC Group-II Notification 2018 Details:  
This appsc admit card for group 2 notification is relesed before the exam of 7 days as per the notification in below you can check the exam dates in before the APPSC exam dates you can check the APPSC group-2 Admit card notification 2019 link is updated. Once check regular updates and also check other Govt job Updates in the home page of this jntu fast result webpage. Check your eligibility and apply for the all eligibility post and any additional information regarding the APPSC or  OTHER GOVT jobs and any IT sector Jobs we will help you through the mail or comment in below.
| | |
| --- | --- |
| Name of the Department | Andhra Pradesh Public Service Commission (APPSC) |
| Name of the post | APPSC Group-II Recruitment 2019 |
| Post category | AP State Government Jobs |
| Post location | Andhra Pradesh |
| No. of vacancies | 446 (110 CF + 336 Fresh) |
| Educational Qualification | Post Graduation |
| Starting date to apply | 10/01/2019 |
| Closing Date to apply | 31/01/2019 |
| Application Mode | Online |
| Official website | ap.gov.in |
ANDHRA PRADESH PSC Group-II Exam Pattern 2018:
APPSC Group 2 Prelims Test Pattern 2018
Section
Test Type
Subject Names
Total Questions
Total Marks
Exam Period
1
Objective Type Questions
General Studies & Mental Ability
150
150
150
2
Social and Cultural History of AP & Indian Constitution
3
Planning & Economy
Andhra Pradesh PSC Mains Paper Pattern 2018
S. No
Exam Type
Paper
Subject Names
Maximum Marks
Test Duration
1
Objective Test
I
General Studies
150 M
150 Minutes
2
II
Social & Cultural History of Andhra Pradesh (History of various Social & Cultural movements in Andhra Pradesh) General overview of the Indian Constitution
150 M
150 Min
3
III
Planning in India & Indian Economy, Contemporary problems & Developments in Rural Society with special reference to Andhra Pradesh
150 M
150 Min
Interview
50 Marks
APPSC Group-II Admit cards 2019:
Here we updated the link for the download the admit card for Group-1 Service in A.P. Works Accounts Service. follow this age for the reference and admit card or hall ticket 2019. In the below link you can download the APPSC Group-II Recruitment 2019 APPSC Admit Cards 2019 as soon as possible we updated.
NOTE: HALL TICKETS can be downloaded 7 days before commencement of Exam.
APPSC Admit cards for Group-II EXAM- Link Updated soon
APPSC Group-II Recruitment 2019 APPLICATION FEE
For OBC/General: Rs.330/- &
For SC/ST:  Rs.250/-
APPSC SELECTION PROCESS
SCREENING TEST – WRITTEN EXAMINATION (OBJECTIVE TYPE) be held on 05/05/2019
MAINS – WRITTEN EXAMINATION (DESCRIPTIVE TYPE) will be held
through the computer-based test on 18/07/2019 & 19/07/2019
PAY SCALE –APPSC Group-II 2019
The AP Group-II Salary is based on the
APPSC Group-II Salary: Rs.29,760 – 80,930 Per month (Estimated check Below PFD for all Catagories)
APPSC Group-II Vacancies:
For Fresher – 336
For CF-  110
Total- 446 
AP PSC Group-II 20 Post Notification Links 2018:
Download official Notification – pdf here
Application Link For Group II – APPLY NOW
APPSC Group II Syllabus Topics
Andhra Pradesh PSC Group 2 Screening Test Syllabus 2018
Current Affairs
Issues of National and International importance in politics
Economics
Society
Science, Technology, Arts, Sports, Culture and Governance.
Constitution of India with emphasis on Federalism
Fundamental Rights, Fundamental duties
Union and State Governments
Judiciary, Judicial Review
Local Government
Directive Principles of State Policy,
Administration and Legislative relations between Union and State Governments
Scheduled and Tribal Area Administration.
Economic Development of India
The economy in Medieval India
pre-Independence Indian economy
Development Plans and Economic and Industrial Policies of Independent India.
Liberalizations, Privatization, Globalization
Labour Policies of Union and State Governments, role of Agriculture and Green Revolution in India.
Economic disparities between regions and population categories.
APPSC Group II Service Exam General Studies and Mental Ability
Events of national and international importance.
Current affairs- international, national and regional.
General Science and its applications to the day to day life Contemporary developments in Science & Technology and Information Technology
The social- economic and political history of modern India with emphases on Indian national movement
Indian polity and governance: constitutional issues, public policy, reforms and e-governance initiatives.
Economic development in India since independence.
Geography of India with focus on Andhra Pradesh.
Disaster management: vulnerability profile, prevention, and mitigation strategies, Application of Remote Sensing and GIS in the assessment of Disaster
Sustainable Development and Environmental Protection
Logical reasoning, analytical ability, and data interpretation.
Data Analysis
ఏపీపీఎస్సీ గ్రూప్ 2 పరీక్ష పాఠ్యాంశాలు – APPSC Group 2 Paper II Exam Syllabus
Social and Cultural History of Andhra Pradesh
Geographical Features of Andhra, Its Impact on History and Culture
Pre-History
The Satavahanas, Ikshvakus
SocioEconomic and Religious Conditions
Literature, Art, and Architecture
Various kingdoms that ruled Andhra Pradesh between 11th and 16th Centuries A.D Socio-Cultural and Religious conditions in Andhradesa between 11th to 16th Centuries
Advent of Europeans
Trade centers- Andhra under the Company– 1857 Revolt and its impact on Andhra
Origin and growth of Andhra movement
Events leading to the Formation of Andhra Pradesh State
Nature of the Indian Constitution
Structure and functions of the Indian Government
Andhra Pradesh Group 2 Paper III Exam Syllabus
Planning in Indian Economy and present states
Socio-Economic
objectives and outlays of Five Year Plans
alternative strategies
Goals and Achievements
Indian Economic Policies
Agricultural policies
Industrial policies since 1956
IT industries
The monetary policy of RBI
Availability of Natural resources and Development
Population- size
composition and growth–Trends
Money, Banking and Public Finance
Meaning and Measurements of Growth
A distinction between growth and development
National Income
An economy of Andhra Pradesh
More APPSC Updates: