JNTUA 4-2 Important Question papers: here we provided all 4th years and 2nd-Semester previous question papers for Specialization wise (i.e CIVIL, EEE, MECH, ECE, CSE, CHEM, BME, IT, AE, AME). And also download all jntua 4-2 sem previous paper with regulation wise and subject wise.
JNTUA 4-2 Previous Question papers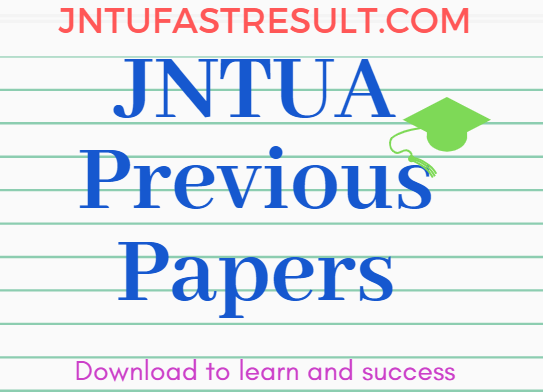 JNTUA B.Tech 1st Year 2nd Sem Previous Question Papers 2020
| | |
| --- | --- |
| University | Jawaharlal Nehru Technological University, Ananthapur |
| Category | JNTUA B.Tech Previous Question Papers |
| Regulation | R19/R15 |
| Status | Released |
JNTUA Previous papers PDF:
Those who are studying b.tech under Jawaharlal Nehru Technological University, Anantapur (jntua) those students check the subjects and download all wanted previous question papers. It's useful to all the students those who are attending jntuk 4-2 semester exams before the exams once check all the previous papers to score good mark in those exams.
JNTUA Important Previous Question Papers:
Here all the jntua updates and jntua notification are provided along with we also provided jntua previous semester questions papers. These question paper are previously conducted by you seriously. This is useful to know the patter of the subjects and model of every subject and previous important questions. Based on the jntua previous question some of the students are going to start the exam preparation.
JNTU Anantapur Previous Question Papers For 4th year:
JNTUA Previous Question Papers R15, R13, R09: In below we provided all JNTUA B.Tech Previous Question Papers for the following branches.once check any errors or any mistakes are found a comment on below we are modified and try to remove mistakes for further.
JNTUA 4-1 CSE Previous Question Papers – Computer Science & Engineering.
JNTUA 4-1 ECE Previous Question Papers – Electronics & Communication Engineering.
JNTUA 4-1 EEE Previous Question Papers – Electrical & Electronics Engineering.
JNTUA 4-1 Mech Previous Question Papers – Mechanical Engineering.
JNTUA 4-1 IT Previous Question Papers – Information Technology.
JNTUA 4-1 CE Previous Question Papers – Civil Engineering.
Download JNTUA B.Tech Question papers:
These are most important and frequently asked examination questions from every single subject. We have covered every single topic of JNTUA subjects for each semester and for each branch. And thus, these Unit Wise Question Banks and Unit Wise Important Questions have been prepared
Civil Engineering (CE)
Estimating, Specifications & Contracts
Engineering With Geo Synthetics (EWGS)
Environmental Impact Assessment & Management (EIAM)
Advanced Structural Engineering (ASE)
Ground Water Development & Management (GWDM)
Traffic Engineering (TE)
Infrastructure Management (IM)
Advanced Foundation Engineering (AFE)
Solid Waste Management (SWM)
Earthquake Resistant Design (ERD)
Water Shed Management (WSM)
Pavement Analysis & Design (PAD)
Green Buildings (GB)
Soil Dynamics & Machine Foundations (SDMF)
​​​​​
Environmental & Industrial Hygiene (EIH)
Repair & Rehabilitation Of Structures (RROS)
Water Resources System Planning & Management (WRSPM)
Urban Transportation Planning (UTP)
Safety Engineering (SE)
Bridge Engineering (BE)
Electrical & Electronics Engineering (EEE)
Digital Control System (DCS)
Advanced Control Systems (ACS)
High Voltage Engineering (HAVE)
Special Electrical Machines (SEM)
Electric Power Quality (EPQ)
Digital Signal Processing (DSP)
Flexible Alternating Current Transmission Systems (FACTS)
OOPS Through JAVA (OOPS)​​​​​
UNIX & Shell Programming (UNIX)
AI Techniques (AI)
Power System Reforms (PSR)
Systems Engineering (SE)
Mechanical Engineering (ME)
Production Planning & Control (PPC)
Green Engineering Systems (GES)
Experimental Stress Analysis (ESA)
Mechatronics (MTS)
Advanced Materials (AM)
Power Plant Engineering (PPE)
Non Destructive Evaluation (NDE)
​​Advanced Optimization Techniques (AOT)
Gas Dynamics & Jet Propulsion (GDJP)
Quality & Reliability Engineering (QRE)
Electronics & Communication Engineering (ECE)
Cellular Mobile Communication (CMC)
Electronic Measurements & Instrumentation (EMI)
Satellite Communications (SC)
Mixed-Signal Design (MSD)
Embedded Systems (ES)
RF Circuit Design (RFCD)
Cloud Computing (CC)
Wireless Sensors & Networks (WSN)
​​​​​
System On Chip (SOC)
Low Power VLSI Design (VLSI)
Bio Medical Ins (BMI)
EMI / EMC
Computer Science Engineering (CSE) & Information Technology(IT)
Distributed Systems (DS)
Management Science (MS)
Micro Processors Multi Core Systems (MPMCS)
Embedded & Real-Time Systems (ERTS)
Neural Networks & Soft Computing (NNSC)
Social Networks & The Semantic (SNTS)
Cloud Computing (CC)
Human-Computer Interaction (HCI)
Advanced Operating Systems (AOS)
Mobile Adhoc & Sensor Networks (MASN)
Pattern Recognition (PR)
​​​​Digital Image Processing (DIP)
Micro Processors & Multi Core Systems (MPMCS)
Agriculture Engineering
Agro Industries And Bi-product Utilization
Design Of Agricultural Machinery
Aeronautical Engineering
Aircraft Systems And Instrumentation
Structural Analysis And Detailed Design
Automobile Engineering
Modern Vehicle Technology
Principles Of Entrepreneurship
Automotive Control Systems
Chemical Engineering
Corrosion And Its Control
Industrial Safety & Hazard Management
Electronics and Computer Engineering
Automata Theory And Compiler Desing
JNTUA Syllabus books and course structure
HOW TO  Download JNTUA 3-1 Previous Question papers:
Candidates can check the JNTUA 3-1 Question papers from the official website or from the link which we are given in the PDF Format.
Click on the "Download Link".
Now save or take the printout of PDF.
JNTUA B.Tech Old Previous Question
Share this collection of JNTUA B.Tech Previous Question Papers among all your friends and classmates, you are also requested to pass it on all of your social media pages and groups, so that most people take the advantage of these resources and download JNTUA Previous Question Papers of R15, R13, R09 regulations.
If You Have Any Queries/ Suggestions / Doubts/ Complaints, Feel Free To Comment Below.
MAIL US AT ANY TIME: JNTUFASTRESULT@GMAIL.COM OUR TEAM WILL GIVE REPLY TO YOU AS SOON AS POSSIBLE