JNTUH Regular/Supply Exam Hall Tickets: Jawaharlal Nehru Technological University, Hyderabad (JNTUH) has conducted the semester exams for all the students under JNTU Hyderabad University. All jntuh students must and should take the JNTUH Hall Tickets issued by the jntu university for all Regular/Supply Examination. Here we provided what is mandatory for the external exams as conducted by the university and how to take your jntuh exam Hall Tickets for Regular and supply examinations.
JNTUH Supply Exam Hall Tickets 2023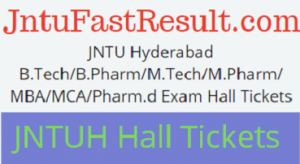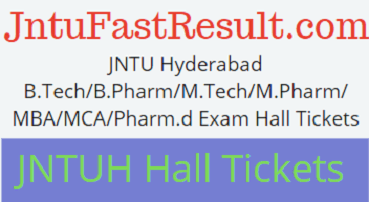 All JNTU Results & Notification & Updates:
For all JNTUH Results and JNTUH fast Updates, notifications or updates Drop Your mail id in below and get all jntu fast and genius updates to your emails. And here we updated the JNTUH UG, PG, B.Tech, B.Pharma Courses Updated and All Notification.
How to Get JTNUH 1-1 Semester & 1st Year  Exam Hall Tickets Nov 2023 Exams:
Hall Tickets For B.Tech / B.Pharmacy 1-1 Semesters & 1st Year  (R18, R17, R16, R15, R13, R09 – For all Regulations) Regular & Supplementary Examinations October 2023 Are Released. Contact your college to get the hall ticket.
JNTUH October 2023 Exams INSTRUCTIONS TO THE STUDENT:
1. All the students must be present in the examination hall before the commencement of the examination and students who come after the commencement of examination will not be allowed.
2. Students should not carry any other material except Hall Ticket, Identity card and Scientific non-programmable calculator.
3. Programmable calculators, palm computers, mobile phones and pagers are not permitted in examination halls. They should show Hall Ticket and Identity card to the Invigilator/Observer/Chief Superintendent whenever they are asked.
4. Students are allowed to leave the examination hall only after one and half hour from the commencement of the examination.
5. Students must hand over the answer booklets to the invigilator before leaving the examination hall.
6. The University reserves the right to cancel the admission of the student at any stage when it is detected that his/her admission to the examination or the college is against rules.
7. Tearing any page from the answer booklet is a punishable offence. A student can be debarred for two years in addition to the cancellation of a performance of the entire series.
NOTE: If there is any discrepancy in the student photos or any other details, it should be brought to the notice by the Controller of Examinations immediately.
JNTUH Oct 2023 Exams COVID-19 Guidelines:
1) All the students must wear masks while they are on campus.
2) Students must maintain social distancing as per Government guidelines in the current scenario of COVID-19 to ensure the health and safety of the Students.
3) Students must carry their own water bottles and hand sanitisers. Sharing of pens or any other stationery items among the students is strictly prohibited in the exam hall.
4) On completion of the exam, the students shall be permitted to move out in an orderly manner one candidate at a time. The students should not get up from their seats until advised by the invigilator.
5) Students must maintain silence while going to their allotted exam hall as well as inside the exam hall.
6) This hall ticket should be kept in an open state besides your answer booklet whenever the room invigilator come to your place.
7) You have to put your signature in the space provided on the answer booklet after verifying your personal details.
What is Mandatory for JNTUH External Semester Exams?
Without a college id card and University Hall Tickets, the exam must be prohibited by the Examiner. Go to the examination hall along with jntuH issued hall tickets and college provided id cards both are mandatory for every JNTUH Regular/Supply Examination.
JNTUH Hall ticket Download 2023:
Other college centre students take the printout of your HallTickets and carry HallTickets and ID card(college/Govt issued I'd card) during the exam
Parent college students carry their id card (college/govt issued id card), collect your HallTickets in the exam Hall.
JNTUH Question Paper Pattern & Exams Guidelines March/April 2023
Here we provided the information for All JNTU Hyderabad HallTickets from Manabadi.com or www.jntuh.ac.in hall ticket details for students under Affiliated and constructed colleges under JNTU Hyderabad M.tech, M.Pharm, MBA, MCA, Pharm.d B.Tech, B. Pharma Hall tickets.
How To Get JNTUH Hall Tickets 2023: 
Do students go the answer for How can I download Jntuh Hall tickets?. Every semester exams JNTUH Hall Tickets are changed either it is regular and supplies exams. So, You must take JNTUH Hall Ticket before the exams on your respected college exam cell.
When JNTUH Hall Tickets are Released?
JNTUH Regular/Supply Examination Hall Tickets can be sent to your respected colleges. So, once contact your exam cell members or your branch exam cell facilities before 2 days of JNTUH Semesters exams for JNTUH Exam Hall Tickets.
How To Check JNTUH Jumbling Exam Centers?
Below we provided the finalized exam centres as per the JNTUH University updates. So students those who are taking the jntuh regular exams and JNTUH Supply Exams on Upcoming Month. So please visit the below-Provided page and check Your JNTUH Exam centres.
JNTUH Jumbling Exam Centers List 2023 
JNTUH Regular & Supply Exam Dates & Time Table 
Related Post:
JNTUH B.Tech/B.Pharm/MBA/MCA Exams Rescheduled dates 2023
JNTUH B.Tech/B.Pharm/MBA/M.Tech/MCA Jumbling Exam Centers List 2023
More Updates: 
JNTUH Syllabus Books | JNTUH Acadamic calenders | JNTUH Results | JNTUH Exam Time Table
If You Have Any Queries/ Suggestions / Doubts/ Complaints, Feel Free To Comment Below.
Check More Updates