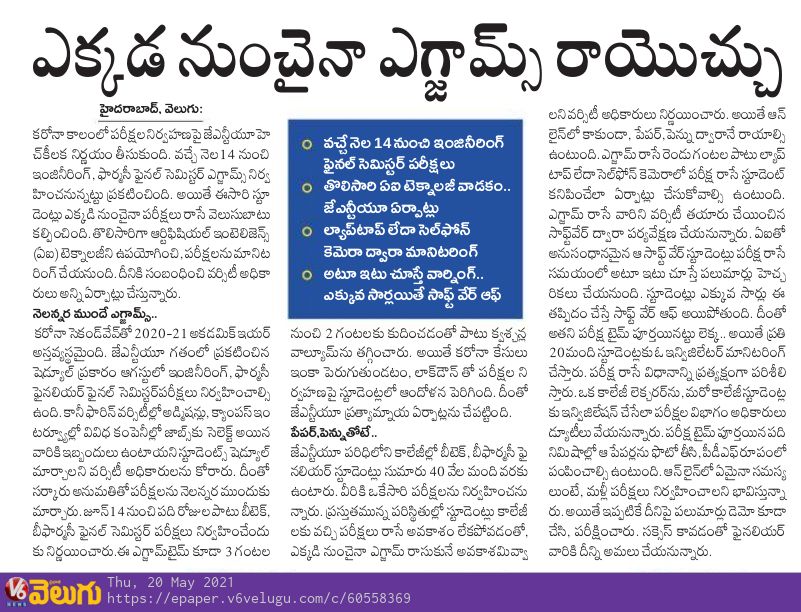 JNTUH End Semester Exam Date, Exam Pattern, Exam Timing & Invigilation – Information
JNTUH Semester Exam Date, Pattern, Timing & Invigilation – Update: JNTU Hyderabad has made a key decision on the conduct of examinations during the COVID-19 phase.
Engineering final semester exams start from the 14th of next month
Exams can be written from anywhere, from the 14th of next month, JNTUH has announced that it will conduct the final semester exams for B.Tech and B.Pharm.
This time, however, it made it easier for students to write tests from anywhere using Artificial‌ Intelligence‌. For the first time, AI technology will be used to monitor the tests. Varsity officials are making all arrangements in this regard.
Exams a month and a half in advance
The 2020-21 academic year was chaotic with Corona second wave. JNTUH is scheduled to conduct final semester examinations for Engineering and Pharmacy in August as per the previously announced schedule. But admissions at foreign varsities have led varsity officials to change schedules, saying those selected for jobs at various companies in campus interviews will have trouble.
With the permission of the government, the examinations were preponed for a month and a half. It has been decided to conduct B.Tech and B.Pharmacy final semester examinations for ten days from June 14.
This exam time has also been reduced from 3 hours to 2 hours and the volume of questions has been reduced. However, with Covid cases still on the rise, there is growing concern among students over the conduct of exams with lockdowns. With this, JNTU made alternative arrangements.
Using pen and paper
The colleges under JNTU Hyderabad have about 40,000 B.Tech and B.Pharmacy final year students. They will be tested simultaneously.
Under the current circumstances, students are not allowed to come to colleges and write exams, so varsity officials have decided to allow students to write exams from anywhere.
However, instead of online, you have to take pen and paper test. Test takers should sit in front of a laptop or cell phone camera for two hours while writing the exam.
Those who write the exam are made by the varsity will be monitored by software. With AI, those connected software students will be warned several times if they look at it while writing the test.
If students make this mistake too often the software will turn off. With this, his examination time is calculated to be completed.
However, an invigilator monitors every 20 students. The process of writing the exam will be examined directly.
Invigilation duties will be laid by JNTUH Examinations Department by deploying one college lecturer to another college.
The papers are to be photographed and sent in PDF format within ten minutes of the completion of the examination time.
If there are any problems during the exam, re-tests are expected again. However, it has already been tested several times. The finalist will implement it for them as it is a success.
Here we share the latest update of JNTU and other universities. Students and employees can visit our website frequently to know the updates.
jntuh UG / PG Exam Time Table & Notification
If You Have Any Queries/ Suggestions / Doubts/ Complaints, Feel Free To Comment Below.
More Updates