JNTUK OD Apply Procedure 2020: Here jntuk fast results brings the useful information about the topics of JNTU Kakinada Step by Step Procedure to Apply for Original Degree (OD) through online and How to apply for an OD (Original Degree) and jntuk od online application status and finally jntu Kakinada Original Degree online applies guidelines. The solution for the students who are facing the problem for applying OD (original Degree) of jntu-Kakinada is given below go through the article carefully for details and JNTUK Step by Step Procedure to Apply OD (original degree)-Online.
Procedure To Apply JNTUK OD 2020: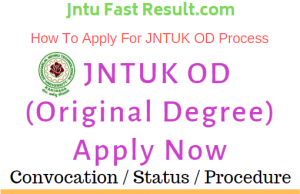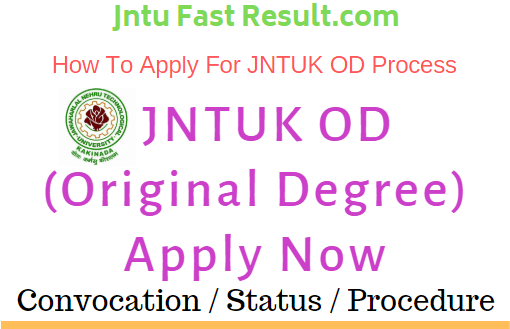 JNTUK OD Procedure Details 2020:
The Candidate those who are willing to apply for the JNTUK OD certificate are instructed to upload Educational Details (like PC, CMM, SSC, PHOTO) and Personal details in online-application you can check jntuk od application status after the application completion. Candidates those who are applying for the JNTUK PC and JNTUK migration certificate have to upload the personal details after one week of the bank payment. Candidates have to upload details within 15 days of the bank payment. Candidates those who will not upload the details within 15 days are kept in the pending list. Once OD is out, The student details are removed from the database.
JNTU Kakinada OD Fee Details 2020:
The Post Convocation Original Degree Fee details are listed below for both UG/PG:
For 2010 passed out students Rs. 6500(Post Convocation)
For 2011 passed out students Rs. 6000(Post Convocation)
For 2012 passed out students Rs. 5500(Post Convocation)
For 2013 passed out students Rs. 5000(Post Convocation)
For 2014 passed out students Rs. 4500(Post Convocation)
For 2015 passed out students Rs. 4000(Post Convocation)
For 2016 passed out students Rs. 3500(Post Convocation)
For 2017 passed out students Rs. 3000(Post Convocation)
For 2018 passed out students Rs. 2500(Post Convocation)
For 2019 passed out students Rs. 2000(Post Convocation)
For 2020 passed out students Rs. 3500(Pre Convocation)
Need Every Semester Marks Memo To Apply Original Degree?
No need to upload all the semester marks memo for Undergraduate students, Only for Post Graduates (PG) students need to upload All the semester marks memo.
How To Apply For OD Through jntuk Online – Jntuk Od Apply
Step-1: First of all, Students Need to register first and then need to login
JNTUK OD registration Page – Register Now
JNTUK OD Login Page – Login Now
Step-2: In This Step, you see 4 levels of details submission:
After that need to submit your personal details.
Then Pay money through online using a different payment method
After that, you need to upload below certificates as per the conditions
After You Need to accept term and conditions.
finally, you will get on tracking id, Need to take a screenshot or take the printout for further reference.
Step 3–Required Scanned Documents List to Apply JNTUK OD and check below documents to apply for OD.
Recent Passport size colour photograph
Secondary School Certificate(SSC)
Consolidated Marks Memo (CMM)
Provisional Certificate obtain from the University (PC)
All Semester Marks Memos for P.G. Courses only as PDF.
if you pay through offline then Bank Payment form or Bank challan form which contains Hall ticket number, Bank payment reference number (DU Number) and contact number given during payment.
Step 4- The amount has to be paid can either by making online modes or by making the payments at any branch of SBI using the on-line Challan generated by this Online Daily_wise OD Application.
Step 5- The candidate has to upload Educational Details(like PC, CMM, SSC, PHOTO) and Personal details in online-application.
Step 6:- After successful completion of the application, candidate application will be given a unique application number or save as pdf. Save that application number and maintain the Generated Application form for further reference.
JNTUK OD Apply Link: Click Here
Latest JNTUK 8th Convocation Notification
If You Have Any Queries/ Suggestions / Doubts/ Complaints, Feel Free To Comment Below. MAIL US AT ANY TIME: JNTUFASTRESULTS@GMAIL.COM OUR TEAM WILL GIVE REPLY TO YOU AS SOON AS POSSIBLE.
 Check More Updates