Procedure To Apply OU Revaluation Through Online 2022: Here we provided detailed Osmania University Revaluation Procedure and Osmania University Reverification Procedure For online and finally Osmania University Photocopy Procedure Through Online. So students who are check OU UG Results and not Satisfied with your Osmania University Results For Regular (Main) and Supply (Backlog) Exams then have a chance to Apply OU Rv Procedure for their Attempted papers. In below provided detailed Information Regarding How To Apply For Revaluation & Recounting In OU
How to Apply Osmania UG Revaluation / Photocopy Procedure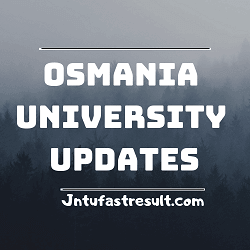 How To Apply For Revaluation & PhotocopyIn OU – Osmania University:
Secondary we come Osmania University Revaluation Procedure/ Osmania University Recounting Procedure. Students who are seeking various engineering fields like BE (Mechanical, Civil, EEE, ECE, IT and Computer Science Engineering) and a degree in ou like B.Sc, B.Com, BA, BBA (General, Computer, Vocational), etc and much more the University of Osmania Hyderabad and Affiliated colleges of OU can apply.
Why I need to Apply Revaluation/Photocopy in OU Online
What is Revaluation/Photocopy: If students who are not satisfied with the results of Osmania University can apply for Ou RV/RC. This Apply for OU Revaluation or Recounting can gain marks or may remain the marks as same. Students who failed in their academics can also apply for this OU Revaluation, OU Photocopy may also be provided to the students if the University allows. Not only Osmania University students the affiliated colleges under OU Can also use this facility provided by the University. The details Procedure of Osmania University Revaluation/ Recounting can be read and apply during the application for more marks in exams.
Procedure To Apply ANU Revaluation Procedure 2022:
The following are the rates of fee for Photocopy / Revaluation / Xerox copies of Answer Scripts. After results released date students are not satisfied with your results, they have an option to apply ANU Revaluation or ANU Personal Verification and ANU Xerox copy to get improvement on your marks. You can Apply On or Before the dated as provided on below.
OU RV & Photocopy Fee/Amount Details:
i) Revaluation fee for each script for all courses (Except B.C.A.) Rs.935/-
ii) Revaluation fee for B.C.A. Course Rs.1025/-
iii) Personal Verification fee for each script for all courses Rs.980/-
iv) Fee for obtaining Xerox copy of each script for all courses Rs.1250-
What are the Last Dates to Apply OU Revaluation and Photocopy Procedure – OUT
Last Date To Apply OU Revaluation & Photocopy: OU UG Revaluation/Photocopy Notification 2022
How To Apply For Revaluation and Photocopy in OU – Osmania University
First of all, we suggest students approach their respective colleges/university to get proper information, as this information is just for reference purpose only and may change as per the time.
Check the dates when applications start for Revaluation as well as recounting.
The student has to download the Revaluation form (Application form) which is available to download here as well as on the OU official website.
Collect marks memorandum from college or if 'net print' is accepted then get a printout
Demand Draft to be made or Approach nearest TS / AP Online Centers for more information on payments, as payment acceptance address were different last year for Revaluation and Photocopy.
Now submit your application form based on where it is accepted.
OU Degree Exam Fee Notification – Released Now
More searches:
How to apply for revaluation In Osmania University
Osmania University Revaluation Apply Online 2022
OU Degree Revaluation Apply Online 2022
OU Degree Revaluation last date 2022
OU Revaluation last date 2022
How to apply for Photocopy In Osmania University
If You Have Any Queries/ Suggestions / Doubts/ Complaints, Feel Free To Comment Below.
Check More Latest Updates