SBTET Dussehra Holidays 2022: Here we are updating the information for AP SBTET diploma Vijayadashami / Dussehra/దసరా Holidays 2022 and TS diploma Vijayadashami / Dussehra/దసరా Holidays 2022 and other SBTE Holidays updates in this page.
Polytechnic Vijayadashami / Dussehra Holidays In TS: దసరా పండుగ: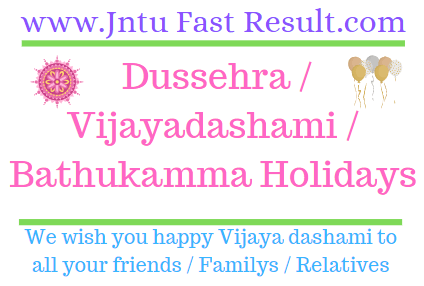 SBTET Vijayadashami  Festival Holidays Oct 2022:
| | |
| --- | --- |
| Board | State Board of Technical Education and Training (SBTET) |
| Category | Holidays / దసరా పండుగ |
| Status | Released |
| Official website | www.sbtet.com |
Diploma దసరా Holidays 2022 | Diploma Dasara Holidays 2022:
తెలంగాణలోని విద్యాసంస్థలకు దసరా సెలవులను ప్రభుత్వం ఖరారు చేసింది. దీనిప్రకారం రాష్ట్రంలోని అన్ని పాఠశాలలకు సెప్టెంబర్ 26 నుంచి అక్టోబర్ 9 వరకు దసరా సెలవులు ఇవ్వనున్నట్లు పాఠశాల విద్యాశాఖ ప్రకటించింది. దీంతో 14 రోజులపాటు దసరా సెలవులు వర్తించనున్నాయి.
What is bathukamma festival?
Bathukamma is floral festival celebrated predominantly by the Telangana and some parts of Andhra Pradesh. Every year this festival is celebrated as per Shathavahana calendar for nine days starting Bhadrapada Pournami till Durgashtami, usually in September–October of Gregorian calendar
SBTET Diploma Dussehra/bathukamma festival Holidays 2022 – Details:
TS General & Optional Holidays List 2022 
AP Dussehra/VijayadashamiHolidays 2022
How to Check SBTET Festival Holidays 2022 | SBTET దసరా సెలవులు 2022:
Jntufastresult.com provided all sbtet Information along with as per we noticed the ap sbtet and Ts Sbtet Dussehra holidays dates 2022 are provided on above. Those dates are either be one day before or after.  And more Updates for SBTET Check on the main diploma Updates page.
If You Have Any Queries/ Suggestions / Doubts/ Complaints, Feel Free To Comment Below.
~Check More Latest Updates~