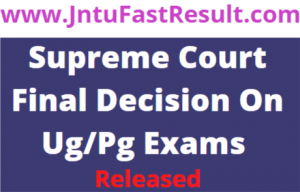 SC Verdict on UGC Guidelines & Final Year University Examination 2020
| | |
| --- | --- |
| Board | Supreme Court decision on exams 2020 |
| Type  | Exams |
| Category | Exams |
| Status | Released |
Students can't be promoted without Exams – Supreme Court Notices
Supreme Court verdict on Final year examinations 2020 is finally here.
Exams are Mandatory.
While the State orders of cancelling the examinations have been upheld, the Supreme Court has announced that the degrees cannot be granted without the examinations. The states can, in turn, approach UGC to extend the September 30 deadline.
It has also ruled in favour of UGC and said exams mandatory. If a state wants final exams to be postponed beyond UGC deadline of Sept 30, they have to consult UGC for fixing a fresh date for the final examination in that state.
డిగ్రీ పరీక్షలపై సుప్రీం కోర్టు కీలక తీర్పు
డిగ్రీ పరీక్షలపై సుప్రీం కోర్టు కీలక తీర్పు వెల్లడించింది. ఫైనల్ ఇయర్ పరీక్షలు లేకుండా విద్యార్థులను ప్రమోట్ చేసే అవకాశం లేదని వ్యాఖ్యానించింది. అందుకే రాష్ట్రాలు, కేంద్ర పాలిత ప్రాంతాలు పరీక్షల్ని వాయిదా వేసేందుకు యూనివర్సిటీ గ్రాంట్స్ కమిషన్-UGC తో చర్చలు జరపాలని కోరింది. అంతేకాదు… సెప్టెంబర్ 30 లోగా పరీక్షల్ని నిర్వహించాలని యూజీసీ సూచించిన గైడ్‌లైన్స్‌ని కొట్టిపారేయలేమని తెలిపింది. కాబట్టి డిగ్రీ ఫైనల్ ఇయర్ పరీక్షలు జరగాల్సిందే. అయితే ఎప్పటివరకు అన్నది తర్వాత నిర్ణయించొచ్చు. పరీక్షలు లేకుండా ఇంటర్నల్ మార్కుల ఆధారంగా డిగ్రీ ఫైనల్ ఇయర్ విద్యార్థుల్ని పాస్ చేసే అవకాశం లేదు.
Final Words by JntuFastResults As per the Supreme Court decision on UG/PG Exams 2020
As in Our Words, Exams are conducted Must and should, Only after the Control of COVID-19, all exam schedules are released your Respected University. So At any time exams are going to conduct, until all the university decided to promote the students to next semester without any dentations, so all students are promoted and exams are conduted after the control of COVID. We updated all Further Exam time Table Updates, So please check for regular updates on Here
If You Have Any Queries/ Suggestions / Doubts/ Complaints, Feel Free To Comment Below.
MAIL US AT ANY TIME:JNTUFASTRESULTS@GMAIL.COM OUR TEAM WILL GIVE REPLY TO YOU AS SOON AS POSSIBLE.
Check More Latest Updates.