JNTUH Grace marks: This information is useful for Students of jntuh university who are failed in any particular external examination theory subject due to a lack of few marks. In this article, we have provided complete details about the jntuh 0.15% of Adjustment Grace marks process and how to apply for this Jntuh Grace marks and what is the process for applying JNTUH 0.15% adjustment of Marks.
JNTUH Grace Marks Rules & Procedure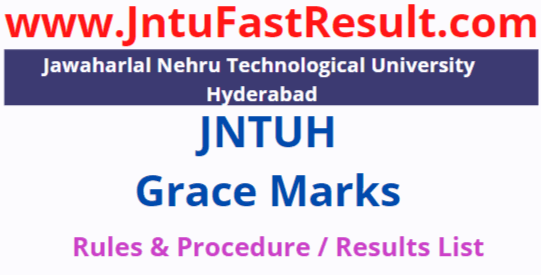 How to Apply for JNTUH Grace Marks Eligibility & Rules – Step by Step Procedure:
Below we provided the Most Frequently asked question with an answer as per the JNTUH Grace Marks Rules, so please go to it and If any Other question you have then Comment on Below:
Are/Is there any last dates to apply For grace Marks?
no last date, go to your respected colleges and apply
How Many Subjects Can apply for JNTUH Grace Marks
A student can add university grace marks for a Max of 2 Subjects.
JNTUH Grace marks are applicable for internal or external exams.
The addition of the Grace Marks is Valid Only for the External Theory Exams. These marks are not applicable to the internal exams and only for the external exams.
How many Grace Marks added for JNTU Hyderabad Grace Marks:
For intermedia Students, Totally add 8 marks is added as Grace Marks. Whether all 8 marks in just one subject or divide 8 for two Subjects.
For Lateral Entry Students, the Total Grace Marks Available is 7. Add a total of 7 in Single Subject or divide 7 for two Subjects.
Regulation​

Grace Marks (0.15%) For
B.Tech Regular​

Grace Marks (0.15%) For
B.Tech Lateral Entry​

R05​

8​

6​

R07​

8​

6​

R09​

8​

6​

R13​

8​

6​

R15​

8​

6​

R16​

10​

7​

R18​

9​

7​
When we applied for JNTUH University Grace Marks
A Student can apply for the grace marks only after receiving the Original marks memo.
What are the Documents for JNTUH Grace Marks Application Procedure:
Take a photocopy of SSC Marks Memo
Also, take the photocopy of the semester marks memo in which you are looking to apply
Obtain the undertaking form and fill it correctly
Submit these documents to the examination branch/principal of your respective colleges
JNTUH Grace Marks Application Fee Details – Normal & Tatkal Process:
Normal applying Proces fee – Free
Tatkal applying Proces fee – 1,000/-
What is the difference Bettewen Normal & Tatkal Process:
when you applied for the normal process it takes more time to release your number for JNTUH Grace Marks Status. And you applied for JNTUH Grace Marks Tatkal Process take less time and fast way to add the marks to your Respected subjects.
Procedure To Apply for JNTUH Change of Class:
The students can submit their application to the examination branch or through Principal of their respective college. Students can also submit their request directly to the Controller of the examinations, JNTU HYDERABAD University Examination Branch.
Change of Class from 49.85 % to 50 % (Pass Class To Second Class)
Change of Class from 59.85 % to 60 % (Second Class To First Class)
Change of Class from 69.85 % to 70 % (First Class To First Class With Distinction)
How to check JNTUH Grace Marks Application Status:
Those who are applied for the jntuh grace marks ether through normal process or tatkal Process. Application status is updated on this website jntufastresult.com. We relate the results in Phase wise for all the applied candidates can bookmark this page or check daily updates to know your Grace Marks eligibility List.
JNTUH Important Points to be noted while applying for grace marks:
Grace marks can be added only to 1 or 2 subjects maximum. (irrespective of credits other than Major Project, Minor Project, Comprehensive Viva-Voce, Seminar)
Grace marks can be added only for external marks.
Grace marks can't be added to internal marks.
The best performance among all the external examinations shall be considered while giving the grace marks. i.e., you can use even your best previous result [Best external mark among all Regular/Supple exams till now] while applying for grace marks.
Students can apply for grace marks only after they get the original marks memos.
Tatkal Process not applicable for Grace Marks. You need to apply at college only for grace marks.
You can apply for grace marks any time. No such deadline or last date is applicable while applying for grace marks.