JNTUK B.Tech 1-1 Sem Exam Fee Notification: JNTU Kakinada is going to release the Regular & supply exam fee notification for 1st-year 1st semester of R20, R19, R16, R13, R10 regulations. Those who have not cleared or regular Students their 1-1 semester subjects have one more opportunity to complete those subjects. Now apply for this JNTUK B.Tech 1-1 Sem Exam Fee Notification 2022 as conducted the exam in March 2022  for jntuk b.tech 1st semester exam dates & jntuk b.tech 1st semester exam fee notification dates 2022
JNTUK B.Tech 1-1 Sem Exam Fee Notification 2022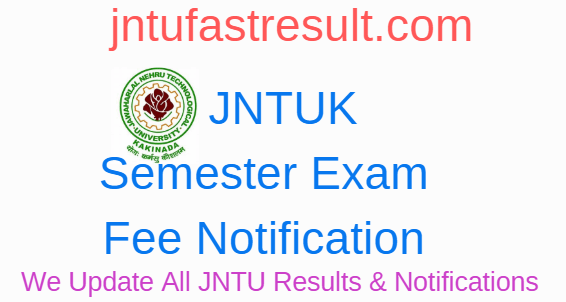 JNTUK B.Tech 1-1 sem Examination Fee Notification 2022
| | |
| --- | --- |
| University | Jawaharlal Nehru Technological University, Kakinada (JNTUK) |
| Course | B.Tech |
| Categories | JNTUK 1-2 Notification |
| Year | 1st-year 1st  semester |
| Regulation | R20, R19, R16, R13, R10 |
| Exam Type | Regular/Supply Examinations |
| Exam Month | Feb/March 2022 |
| Status | Released on 5th Jan 2022 |
JNTUK B.Tech 1-1 Semester (R20, R19, R16, R13, R10) Regular/Supple Exams Notification March 2022 – Eligibility
Candidates appearing for the above examinations commencing from Updated soon are informed that the applications will be received as per the time schedule is given below check jntuk B.Tech 1-1 sem exam fee notification for 1st-year 1st sem regular and supply
R20 REGULATION: For 2020 Admitted Batches onwards
R19 REGULATION: For 2019 Admitted Batches onwards
R16 REGULATIONS: For 2016 Admitted Batches onwards
R13 REGULATIONS: For 2013 Admitted Batches onwards
R10 REGULATIONS: For 2012 Admitted Batches onwards
JNTUK 1-1 sem Question Papers| JNTUK 1-1 sem regular Results 2021
JNTUK 1-1 sem regular RC/RV/CV
JNTUK B.Tech 1-1 Sem Exam Fee Dates 2022
All the Principals of affiliated colleges are hereby informed that the last dates to apply for I B.Tech I Sem Regular & Supplementary examinations March 2022 are extended as follow:
Without Late Fee: 02-03-2022
With Late Fee of Rs.100/- 04-03-2022
With Late fee of Rs.1000/- 05-03-2022
JNTUK B.Tech 1-1 Sem Regular/Supply Exam Fee Details:
Notification is issued to conduct the following Examinations I B.Tech I Semester Regular / Supplementary Examinations Oct 2022
Examination Fee:
For Whole Semester Examination (All Subjects) : Rs. 770/-
For One Subject (Theory/Practical) : Rs. 265/-
For Two Subjects (Theory/Practical) : Rs. 390/-
For Three Subjects (Theory/Practical) : Rs. 515/-
For Four And Above Subjects (Theory/Practical) : Rs. 770/-
Applications are also admissible up-to one day before the Examination with a fine of Rs.5000/- (Application to be submitted at JNTUK Kakinada)
JNTUK B.Tech 1-1 Sem Fee Notification 2022 – Released
JNTUK 1-2 sem Academic Calendars
JNTUK 1-1 sem Syllabus books | JNTUK 1-1 sem Exam Time Table
Note:
Detailed Time Table for Theory Examinations will notify in the J.N.T. University, Kakinada website: www.jntuk.edu.in.
Applications should enclose the Xerox copies of the latest marks memos containing details of failed subjects along with the applications.
Lab Examination will be conducted after completion of the theory examination and dates shall be intimated soon.
All the above Examinations will be conducted in a jumbling system.
JNTUK Fast Updates | JNTUK Updates | JNTUK Fast Result
If You Have Any Queries/ Suggestions / Doubts/ Complaints, Feel Free To Comment Below.
Check More Latest Updates.