AP ECET Certificates Verification & Web Options Entry, Seat Allotment Dates and The counseling process is for those candidates who wish to take admission in Engineering and Pharmacy programs for diploma graduates.
Andhra Pradesh Ecet Counselling Procedure & Dates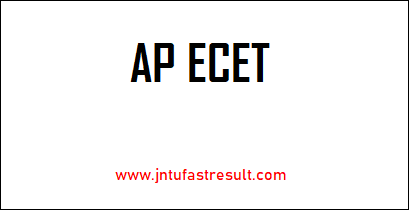 AP ECET 2021 Counselling Schedule:
| S.No | ACTIVITY | DATES |
| --- | --- | --- |
| 1 | Online Payment of Processing Fee cum Registration | 06.09.2022 to 09.09.2022 |
| 2 | Online Verification of uploaded Certificates at notified Help Line centres(HLCs) | 08.09.2022 to 11.09.2022 |
| 3 | Exercising the Web-Options by the registered and eligible Candidates | 10.09.2022 to 12.09.2022 |
| 4 | Change of Options for the candidates | 13.09.2022 |
| 5 | Release of seat allotments | 16.09.2022 |
| 6 | Self-Reporting and Reporting at college | 16.09.2022 to 20.09.2022 |
| 7 | Commencement of classwork | From 19.09.2022 onwards |
AP ECET Counselling Processing Fee
AP ECET Counselling fee for Open Category and Backward Classes: Rs.1200/-
AP ECET Counselling for Scheduled Tribe and Scheduled Caste: Rs.600/-
A Common Entrance Test designated in full as Engineering Common Entrance Test for Diploma Holders and for B.Sc.(Mathematics) Degree Holders and in short as ECET [FDH and B.Sc. (Mathematics)] 2020 will be conducted in every year by JNT University, Anantapuramu on behalf of the AP State Council of Higher Education for B.Sc.(Mathematics) degree holders.
Steps to Pay the Ecet Counselling Fee Through Online:
Registration and Payment of Processing fee
Verification of Certificates (Online)
Option entry
Allotment of Seats
The processing fee can be paid online by the candidate using a credit card or debit card or net banking.
Visit https://ecet-sche.aptonline.in/ECET/Views/index.html and click on Candidate Registration and processing fee payment online.
Enter APECET Hall Ticket number and rank and click on pay fee online.
The candidate will be directed to a payment gateway.
Select any one mode of payment i.e credit card or debit card or net banking and enter credentials.
Once the payment is success click on the print button and take a printout and produce at the time of verification of certificates.
The candidate shall note that he/she shall have paid the processing fee when a candidate attends for certificate verification as per the schedule and ranks mentioned against each date. i.e the processing fee should be paid online by the candidate before he/she attends certificate verification.
Note 1: Candidates passed from boards of examination other than SBTET shall submit equivalence certificate from SBTET.
Note 2: Candidates who have secured 45% (For OC) and 40% (SC/ST/BC) aggregate marks in Diploma or B.Sc Degree Examination are only eligible for admission.
Note 3: B.Sc. (Maths) Candidates will be considered for allotment of seats after exhausting all the Eligible Diploma candidates in the merit list in terms of G.O.Ms.No.49, Higher Education, EC-II Dept, Dated: 04.06.2011.
AP ECET Counselling Required Documents
The candidates are requested to keep the following certificates before proceeding for Online Web Counselling. All original Certificates and two sets of Xerox copies
1) APECET-2022 Rank card.
2) APECET-2022 Hall Ticket.
3) Memorandum of Marks (Diploma/Degree).
4) Provisional Diploma Certificate/Degree Certificate.
5) Proof of Date of Birth (SSC or its Equivalent Memo).
6) Study Certificate from VII to Diploma/9th to Degree B. Sc. Maths candidates
7) Residence Certificate of candidate for a period of 7 years preceding to qualifying examination in case where the candidate has no institutionalized education.
8) In respect of Non-Local candidates in order to consider them for allotment under unreserved seats the following certificates needs to be submitted.
a) Residence Certificate: Candidates who has resided in the State for a total period of 10 years excluding periods of study outside the State; or either of whose parents have resided in the State for a total period of 10 years excluding periods of employment outside the State.
OR
b) Employer Certificate : Candidates who are children of parents who are in the employment of this State or Central Government, Public Sector Corporations, Local bodies , Universities and other similar Quasi Public Institutions within the State at the time of applying for APECET –2022 Examination.
9) Integrated Community Certificate, in case of BC/ST/SC issued by the competent authority (not OBC certificate).
10) Income certificate of parents from all sources issued on or after 01.01.2019 or White Ration card/Rice card (candidate name and father name have to be reflected in the ration card) those who claims tuition fee reimbursement.
11) Local status certificate (if applicable) i.e a candidate who migrates to any part of the state of Andhra Pradesh from the state of Telangana from 02 June-2014 to on/before 01-June-2021shall be regarded as the local candidate in the state of Andhra Pradesh
12) EWS certificate valid for the year 2022-23 obtained from MeeSeva Kendras for OC candidates who want to claim reservation under EWS category
13) Candidates claiming reservation under NCC/Sports/ PH/ CAP shall bring the original certificates.
a) PH – Candidates shall submit certificate issued by the District Medical Board.
b) CAP – Candidates shall submit Certificates from the Zilla Sainik Welfare Board (viz) Discharge book & Identity card etc for Verification. Children of Ex-Service and In-Service persons who are domicile of Andhra Pradesh will alone be considered for allotment of seats under CAP Category.
c) NCC & Sports –Produce original certificates issued by competent authorities. The candidates should have represented from the state of AP.
d) Minorities – The Muslim and Christian Minority Candidates should bring Transfer Certificate (TC) of the SSC containing the Religion (Muslim/Christian/Other linguistic) or in the absence of TC, a Certificate issued by the Head of the Institution in which the student studied/appeared for SSC or its equivalent Examination.
JNTUA Affiliated Colleges List In Districts Wise – NEW
JNTUK ( Kakinada) Affiliated Colleges List In Districts Wise – NEW
AP ECET Counselling Centers – List of Help Line Centres:
1. Government Polytechnic, Srikakulam
2. MRAGR Government Polytechnic, Vizianagaram
3. Government Polytechnic, Kancharapalem, Visakhapatnam
4. Andhra Polytechnic, Kakinada
5. S.M.V.M Polytechnic,Tanuku,West Godavari dist
6. Government Polytechnic, Near Benz Circle, Vijayawada
7. Andhra Loyola Degree College, Near Benz Circle Vijayawada.
8. MBTS Government Polytechnic, Nallapadu, Guntur.
9. D.A Government Polytechnic, Ongole 10. Government Polytechnic, Venkateswarapuram, Nellore
11. S.V Government Polytechnic, Tirupathi
12. Government Polytechnic for women, Kadapa
13. Government Polytechnic, Ananthapur
14. Sri G.Pulla Reddy Government Polytechnic, Kurnool
AP ECET Contact Details & AP ECET Helpline Numbers:
a) Office address:
The CONVENOR, APECET-2022 ADMISSIONS,
D.NO:11-307, GARUDADRI K.K TOWERS, FLAT.NO:501, 6TH FLOOR,
LAKSHMI NARASIMHA COLONY, BYPASS ROAD,
NEAR Dr.YSR AAROGYASRI HEALTHCARE TRUST,
MANGALAGIRI,GUNTUR DISTRICT-522 503.
b) e-Mail Id: convenorapecet2022@gmail.com
c) Help Desk Numbers: 7995681678, 7995865456, 9177927677 (Timings as per the schedule from 9:00 AM to 5:00 PM)
If You Have Any Queries/ Suggestions / Doubts/ Complaints, Feel Free To Comment Below.
~More Updates~