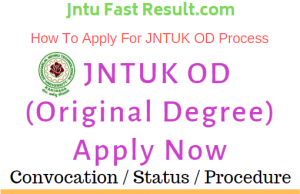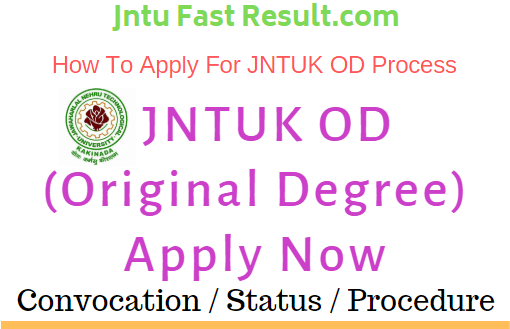 JNTUK New procedure for obtaining Tatkal PC, CMM, OD, Migration, and other certificates, etc
JNTUK (JNTU-Kakinada) In view of COVID-19 pandemic and as per the directions of Hon'ble Vice-Chancellor, JNTUK, the following new procedure is adopted for the issue of Tatkal PC, CMM, OD, Migration and another certificate by the University Examination Center with effect from 01/06/2020.
The students can apply for Original Degree, PC/CMM, Migration Certificates, Genuinity Certificates, etc at www.jntukexams.net, and certificates will be posted to the address specified by the candidates.
For obtaining Provisional Certificate under the TATKAL scheme, the student needs to pay the fee online at www.jntukexams.net and submit the required document viz.applications, SSC, marks memos, etc to the concerned colleges. After verification of applications, the colleges will submit the applications before 12 Noon every day to the University Examination Branch through the examination portal. The TATKAL PC applications will proceed immediately and a soft copy will be sent to the candidate and the Principal of the college within 24 hours and hard copy will be sent by post to the address given.
For Transcripts, Duplicate PC & CMM, Duplicate OD, Duplicate Marks memos, etc, the students need to pay the required fee online at www.jntukexams.net and submit the document by post to "The Controller of Examinations, JNTUK", Kakinada. The requested certificates will be sent by post to the address given. Except for Original Degree and TATKAL PC, an amount of Rs.50/- will be collected towards the postal charges in addition to the normal fee. The students may be informed accordingly.
How to Get JNTUK Original Degree Using Preconvocation  2020:
Students those who are need argent OD Certificate, they will get using this JNTUK OD Preconvocation method. some of the students are already applying to Original degree normal precess by paying 2000 rupes. Due to COVID Normal original degree process may be late. So jntuk introduced new method to get jntuk od using this Pre – convocation. To apply for this method needs 3500/- rupees. If you already pay the 2000 rupees then you need to pay 1500 on jntukexams.net website and send the payment receipt to pa2ce@jntuk.com mail or send it to post. within 10 days you will get od to your Respected Address.
Note: If you face any difficulty to go to colleges, please send mails to respected colleges
Procedure to Apply JNTUK Original Degree
How To Apply JNTUK PC/CMM Certificates Online Procedure
If You Have Any Queries/ Suggestions / Doubts/ Complaints, Feel Free To Comment Below.
MAIL US AT ANY TIME: JNTUFASTRESULT@GMAIL.COM OUR TEAM WILL GIVE REPLY TO YOU AS SOON AS POSSIBLE.
Check More Latest Updates